Life has come full circle for MS Dhoni.
Or, has it?
In 2007, not long after assuming captaincy, he led India to a five-run win over Pakistan in Johannesburg; it enabled India lift the inaugural T20 World Cup.
Four years on, Dhoni and his men face the same opposition on a bigger stage -- a World Cup semi-final.
And the Men in Blue have a similar task ahead -- beat Pakistan to move a step closer to that second world title, one that has proved elusive for the last 28 years, since that memorable triumph in 1983.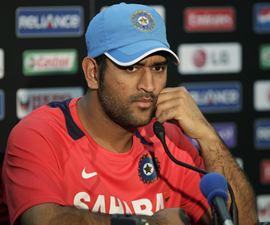 Asked if Wednesday's match in Mohali is the biggest in his career, Dhoni was a tad philosophical.
"I don't believe in comparisons," he quipped, adding, "I have said this a few times earlier as well, because in a cricketer's life you will have instances when you will feel that this is the most important game.
- Dhoni plays down hype before semi-final clash
"But, as you move on in life, the longer you play, more often than not, you forget how you feel before a big game."
India's captain proceeded to elaborate his point.
"Maybe, in a certain period, say three years, you forget everything. I don't know how I felt before the semi-final or the final in the 2007 T20 World Cup.
"So what you tend to do, what you have to, be in the present.
"You feel that this is the most important game, but a few years down the line your views may change and you may believe another game was more important."
Words of wisdom from a captain who has led Team India to considerable success since that memorable triumph in South Africa four years back.
If India gets past Pakistan, sure, Dhoni may just have something else to say!