Australian captain Ricky Ponting believes that the way the team performed in his absence, thrashing England 6-1 in their ODI series, showed that they were ready to chase their fourth consecutive World Cup.
"I'm really proud of the way the boys have played the last few weeks, Michael (Clarke's) led the side well and Cameron (White) led the side really well in Perth and we did start to get a few guys back to full fitness at the right time," Fox Sports quoted Ponting, as saying. 
"We've still got a few injury worries, but hopefully by the middle of this month and early March we'll be on the right track to winning a World Cup," he added.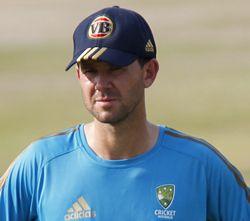 The 36-year-old further said that the 15-man national squad has plenty of players who have proven themselves under difficult Indian subcontinent conditions.
"We go in there with a well-balanced team as far as youth and experience is concerned and players that have had some success there in the past," Ponting said.
Meanwhile, the Australian captain is confident that he will be fit to play in the upcoming World Cup, saying that he could play now if he had to.
Ponting, who missed the final Ashes Test and the entire ODI series against England due to a broken finger, said that the injury was improving fast.
"It's a lot better now than it was last week, I've been back in the nets this week, I've had three good hits, a bit of time out there, so it's actually probably a bit further advanced than I thought it would be," Fox Sports quoted Ponting, as saying.
When asked if he could play if an important match was scheduled, the 36-year-old said: "Yes."
Australia's first game of the tournament is against Zimbabwe on February 21.