Virender Sehwag's 175 against Bangladesh at the Sher-e-Bangla stadium in Mirpur, in the opening match of the World Cup, was, without doubt, a match-winning effort.
However, during the course of the knock there was one moment he would rather forget.
- Scorecard | Images from the  match
With the score 59, Tendulkar called for a single and Sehwag's inattentiveness cost the former his wicket.
Did he regret the moment?
"Not much," said Sehwag, adding, "Not much, because we had discussed that we will be taking singles like that one."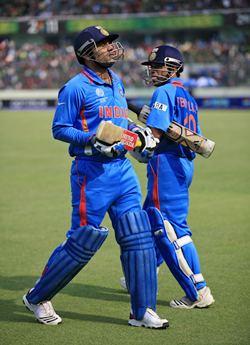 The opener though proceeded to admit his mistake.  
"He was calling for a run and I wasn't listening to him," explained Sehwag, adding, "My attention was towards the fielder.
"Later, for a fraction of a second, I thought I had made a mistake."
 There was no love lost between the teammates though.
 "When I went into the dressing room he said it was okay. What was more important was to win the game for the country," said Sehwag.
 The 32-year-old had promised to carry his bat throughout the innings -- a feat he hitherto hasn't achieved in one-day internationals. And he almost kept his promise, batting for 47.3 overs.
No wonder he was particularly pleased with that effort.
"The idea initially was to bat at least 30 to 40 overs," explained Sehwag, adding "And when I batted for 47 overs, I was happy that at least once in my career I had batted close to 50 overs.
"Moreover, my strike rate was always more than 100."
The opener went on to explain that his strategy during the innings was simple.  
"When the field was spread it was easy for me to rotate the strike," he said, adding, "I was not worried about my hundred.
"For I knew if I continued to play the way I was playing, it would come at some time or the other." Did the possibility of a double hundred ever cross his mind?
"I never thought of getting to 200 as there were only two to three overs left and to get there I needed another 25 runs," explained Sehwag, adding, "I had to play 10-15 balls more to make those runs and it was difficult."
However, there was something to find solace in -- the fact that he had scored 175, that magical number registered by Kapil Dev against Zimbabwe in that memorable match in 1983.
"After his (Kapil's) 175 not out, Sourav (Ganguly) scored 183 against Sri Lanka at Taunton (1999)," he said, adding, "But I can now safely say that people will take my name along with Kapil paaji as both have the same scores."
That Kapil score had served as a prelude to India's maiden World Cup triumph. Can we expect an encore?
"It is difficult to say now though that we will go on and win the World Cup. It's too early.
"We have played just one match thus far," was his reply.