West Indies Cricket Board president Teddy Griffith says his Board gearing to stage the 2007 cricket World Cup with "the utmost seriousness and resolve".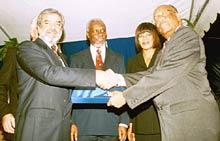 ICC president Ehsan Mani (left) and WICB president Teddy Griffith shake hands following the signing of the Host Agreement as Prime Minister of Jamaica and chairman of the Conference of Heads of Government for CARICOM P.J. Patterson (centre) and Portia Simpson-Miller, Minister of Local Government, Community Development & Sports look on.

Speaking at Jamaica House, Kingston, Jamaica, on Monday, at the signing ceremony for the Host Agreement, which formally establishes the partnership between the International Cricket Council and the WICB, making the WICB the official hosts of the ICC Cricket World Cup 2007, Griffith said, "We have moved from symbolism to reality. Now is the time for performance and delivery and that is all that really matters henceforth."

He noted that the signing is timely for CARICOM (the Caribbean community) because of its move towards to the establishment of single market and economy.

"The Cricket World Cup in the West Indies goes way beyond cricket. It's about travel and tourism, it's about entrepreneurship, it's about cultural development, regional integration and a lot more," he said.

Prime Minister of Jamaica and Chairman of the Conference of Heads of Government for CARICOM P.J. Patterson assured the cricketing world that the West Indies would be ready for the World Cup and host it to the "highest standards".

Speaking on behalf of Caribbean Heads of Government, Patterson noted, "We will not fail in our determination to host the Cricket World Cup 2007 in accordance with the highest international standards.

"In order to do [this], our governments will have to make substantial investments to provide the requisite facilities and infrastructure.  In return, we are entitled to expect that this solemn agreement will be honoured," the Prime Minister added at the ceremony,  which was attended by ICC president Ehsan Mani, CEO Malcolm Speed and other officials.

The Prime Minister also noted that pieces of legislation related to security, intellectual property, customs and immigration would be brought before CARICOM Parliaments in order for the CWC to be successful.