Embarrassed after dropping Indian centurion Rahul Dravid when he had barely started his innings, West Indies captain Darren Sammy confessed he couldn't sleep that night.
Dravid, who went on to score 112, helping India set the West Indies a tough target of 326, was on six on the second evening of the first Test at Sabina Park when Sammy dropped a simple catch that came his way.
- 32nd Test ton physically tough, says Dravid
"I didn't sleep well [on Tuesday] at all, knowing that I dropped the ball," remarked Sammy, after watching Dravid build on that chance and stay till the end to register his 32nd Test century.
It was the sixth over of the innings and the score was 14 for 1 when Sammy dropped a regulation chance at second slip off Ravi Rampaul.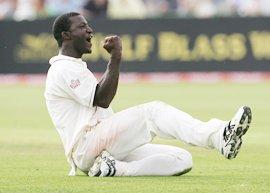 It still, though, did not prevent Sammy from appreciating Dravid's effort.
"Dravid didn't attempt a pull till he was on 98. It clearly shows why he is called The Wall."
However, Sammy was still hopeful of his batters turning his misery into a rare Test win against the world's number one Test team.
"It's up to the batsmen now to go out there and put up a fight. Hopefully, we can be victorious. The game is still wide open. I think whichever side wins the first hour, will determine the winner."
"I hope it will be a big partnership between Bravo and Chanderpaul. Batting in partnerships will be the key. Not losing wickets in cluster, like we have done throughout the season, is vital," Sammy said.
Sammy, who picked four wickets in India's second innings, knows his batting credentials will be up for question.
"Hopefully, the batting will not reach me; Chanderpaul and Bravo could score all the runs and West Indies can have a famous victory. It would make me very happy, but I sense the victory will take a total team effort. Obviously, enough runs have not flowed from my bat recently. But it's not too late."
Sammy had words of praise for his bowlers.
"We have got India out twice in this Test below 300 runs. Even though Dravid scored a century, they still could only score 250 in the second innings. It shows we have the bowlers. We must commend them for they have worked hard," he said.
"Those who encourage and those who don't, I just use it as a motivation. On any pitch, you have to be patient and bowl in the right areas. We were behind in first innings so we had to restrict their scoring.
"My job was to bowl maidens and a lot of dot-balls. That has been my job from the time I started my career," he added.
Photograph: Getty Images