Skipper Mahendra Singh Dhoni top-scored with an unbeaten 65 in a strong batting show as India strengthened its position in the third cricket Test against the West Indies by taking a healthy 104-run lead on day three in Roseau on Friday.
As many as four visiting batsmen scored fifties, as India, resuming at eight for no loss, ended the day at 308 for six while replying to West Indies' 204 all out.
Dhoni shared a 103-run sixth wicket stand with Suresh Raina (50) and made sure that the good work of opener Abhinav Mukund (62), VVS Laxman (56) Virat Kohli (30) did not go waste.
The West Indies, deprived of the services of Ravi Rampaul and handicapped by a hobbling Darren Sammy, never quite wilted under a scorching sun and flat pitch, on a day when 94 overs were bowled at Windsor Park.
Nearly 90 overs were lost on the first two days of the match due to poor light and rain but no such problem emerged on Friday.
India lost two early wickets -- of Murali Vijay (1) and Rahul Dravid (5) - but, thereafter, steadily mounted their total without dominating a depleted attack.
Dhoni played his first innings of substance on the tour. When on 52, he completed 3000 runs in Test cricket, in his 86th innings and 57th Test.
India's captain has so far batted for 157 minutes and struck three fours from 109 balls. He walked in when India were frittering away the advantage, losing three wickets in the afternoon.
Mukund, Kohli and Laxman were all guilty of poor judgment as the visitors lost three wickets in the middle session.
Mukund had serenely moved to his top Test score of 62 when he shaped to play a rising leg-spin from Bishoo towards mid-wicket but only edged it on to his pads, and the lobbed chance was gratefully accepted by Adrian Barath at forward short leg.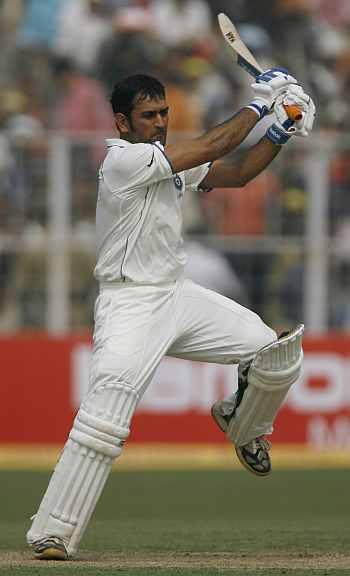 Kohli seemed intent on making up for his lost chances of the series and had reached 30 without much ado but poked at a harmless delivery from Sammy down the leg-side and was brilliantly caught low by wicket-keeper Carlton Baugh.
Laxman's dismissal was a freak one; he allowed a leg-spin delivery from Shivnarine Chanderpaul to go to Baugh, but his backfoot lost contact with the ground for just a fraction of second, which was enough for the keeper to whip off the bails.
Laxman was flabbergasted, but there was little doubt that it was his own carelessness that did him in. He shared an 84-run stand for the third wicket with Mukund and added 52 for the next wicket with Kohli.
Mukund batted for 176 minutes and hit five fours from 149 balls while Laxman faced 129 balls in 207 minutes, caressing three boundaries.
Dhoni, in the company of Raina, then put his head down and began rebuilding the innings with singles and twos.
There was never any temptation to throw their bats at a wilting attack, or at least cart the leg-spin of Chanderpaul around the park, as the two showed intent to build a sizeable lead over the West Indies.
Their stand occupied the most of final session and raised 100 runs in 113 minutes from 182 balls.
Raina showed uncharacteristic restraint and reached his half-century from 131 minutes of batting, hitting three fours from 103 balls.
The West Indies struck with the second new ball straightaway when Fidel Edwards won a leg before shout against Raina.
The young left-hander batted for 134 minutes and struck three from 103 balls. His half-century has now made him the top scorer from either side for the series. He now has 224 runs while Dravid has 217.
There was no further joy for the West Indies, but for the emergence of Rampaul from the dressing room, as Dhoni and Harbhajan Singh (12) helped India reach their first 300-plus score of the series.
Earlier in the day, India lost Vijay (1) and Dravid (5) within the first five overs and were 18 for two before normalcy was restored.
Vijay was nearly bowled off a low full toss in Edwards's first over, squeezing the ball between the slip cordon for a four, but his tendency to push at the ball once again proved his undoing.
In Edwards's next over, a delivery took the edge of his bat on the way to wicketkeeper Baugh's gloves.
The Tamil Nadu opener is in the middle of a wretched run of scores, the sequence of his five innings in the series reading 8,0,11,3 and 1.
Dravid then fell to Sammy, making the normally passive West Indies captain roar in triumph as he hasn't at any stage in this series.
Dravid played for away movement at the delivery that kept coming straight and went between bat and pad to rattle the stumps.