Manoj Tiwary staked his claim for a maiden call-up to the Test squad with a timely century before Australia's spinners bowled out India A for 451 on the second day of the warm-up match in Chennai on Sunday.
In reply, the visitors, riding on Shane Watson's 84, reached 131 for four at stumps on a day when play started more than two hours from the scheduled time due to wet outfield.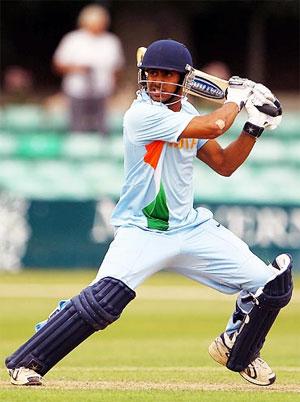 Matthew Wade (3) and Moises Henriques (0) were at the crease at the end of day's play.
Tiwary struck 129 off 187 balls, finding the fence 18 times and cleared it thrice.
Tiwary is not in the 15-man squad selected for the first two Tests but this performance will remind the selectors that he is in form, having fully recovered from the injury he suffered in the middle of the Ranji season last December.
India A would have liked to score a few more runs considering that they were 338 for four at stumps on the opening day, and with Tiwary in good nick, that was definitely a possibility.
However, after going wicket-less on the opening day, off-break bowler Nathan Lyon and promising 19-year-old left-arm spinner Ashton Agar grabbed five wickets between them to stop the India A team around the 450-mark at the Guru Nanak College Ground.
Barring Tiwary and, to an extent, Jalaj Saxena, the others could not make substantial contributions, though Rakesh Dhurv made a breezy 21 off 18 balls with the help of three sixes.
Saxena, during his unbeaten knock of 30 off 106 balls, hit three fours, while Muralidharen Gautam, who was overnight unbeaten on 34, could add just four runs to his name. The Tamil Nadu's batsman's 38 came off 68 balls and included six boundaries.
Before his dismissal, Tiwary added 74 for the fifth wicket with Gautam, and another 76 for the sixth wicket with Saxena.
It must be mentioned that Tiwary had scored 93 when India A had played England in a warm-up match last year.
Starting at a healthy total, India A lost Gautam early, caught behind off Peter Siddle for the pacer's first wicket of the match.
One half-century partnership was followed by another, between Tiwary and Saxena, before the centurion was sent back by Lyon, dealing a blow to the hosts' chance of crossing the 500 mark.
After a few lusty blows, Dhruv fell to Agar after being caught by Usman Khwaja.
The tail enders did not last long as India A were all out in 128.4 overs.
Agar picked up three for 107 while there were two wickets for Lyon. Left-arm spinner Xavier Doherty also finished with three wickets, but all of them came on Saturday.
When their turn to bat came, Watson and Ed Cowan (40) looked at ease against India A bowlers, scoring runs freely and, at a healthy rate.
None of the host bowlers could trouble the Australian openers, who reduced the deficit to under 350 before Dhurv had Cowan trapped in front of the wicket.
Cowan's dismissal triggered a collapse that saw the visitors losing three more wickets, including the important one of Watson, who scored 84 off 87 balls with 13 fours and a six.
Phillip Hughes (1) and Usman Khwaja (1) both flopped.
Scoreboard at stumps (Day 2)
India A 1st innings:
Gautam Gambhir c Watson b Henriques 112
Jiwanjot Singh c Watson b Doherty 24
Rohit Sharma c Wade b Doherty 77
Manoj Tiwary c Doherty b Lyon 129
Abhishek Nayar c Cowan b Doherty 4
CM Gautam c Wade b Siddle 38
Jalaj Saxena not out 30
Rakesh Dhurv c Khawaja b Agar 21
R Vinay Kumar c Cowan b Agar 0
Manpreet Gony c Hughes b Agar 2
Dhawal Kulkarni c Cowan b Lyon 1
Extras (b 3, lb 6, nb 4) 13
Total (all out in 128.4 overs) 451
Fall of wickets: 1-67, 2-195, 3-266, 4-272, 5-346, 6-422, 7-446, 8-446, 9-450, 10-451
Bowling: Mitchell Starc 20-6-44-0, Peter Siddle 18-5-40-1, Moises Henriques 16-4-30-1, Nathan Lyon 30.4-5-113-2, Xavier Doherty 24-2-108-3, Ashton Agar 20-2-107-3.
Australians 1st innings:
Shane Watson c Gautam b Dhurv 84
Ed Cowan lbw b Dhurv 40
Philip Hughes st Gautam b Jalaj S Saxena 1
Usman Khawaja b Jalaj S Saxena 1
Matthew Wade not out 3
Moises Henriques not out 0
Extras (nb 2) 2
Total (4 wickets in 36 overs) 131
Fall of wickets: 1-116, 2-117, 3-127, 4-127
Bowling: R Vinay Kumar 4-1-8-0, Dhawal Kulkarni 5-0-26-0, Manpreet Gony 4-0-37-0, Abhishek Nayar 6-0-27-0, Rakesh Dhurv 9-2-19-2, Jalaj Saxena 8-4-14-2.