Former West Indies captain Viv Richards hit back at wicketkeeper Denesh Ramdin for making an angry gesture towards him after scoring a century in the third Test against England on Sunday.
-Best hits world record Test score by a number 11
Ramdin scored 107 not out in an astonishing 10th-wicket partnership of 143 with Tino Best. But on reaching three figures he unfurled a handwritten note from his pocket and held it aloft towards the commentary box where Richards, one of the Wisden alamanc's five cricketers of the 20th century, was working for BBC Radio.
The note read: 'Yeah Viv Talk Nah' as if to suggest that Richards can no longer criticise him after his latest effort. Ramdin, recalled for this series, has now made two centuries in 45 Tests and averages 23.84.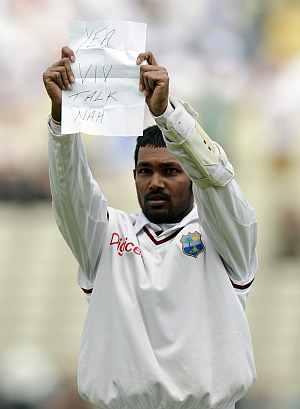 Richards criticised the West Indies batting after a poor performance in the second Test at Trent Bridge, in which England went 2-0 up in the three-match series. He was quoted as saying that Ramdin had "deteriorated in such a big way" and looked like "a totally lost guy".
"It's been a long time coming," said Richards, responding instantly. "If you are good enough, the chances certainly are you are going to get it done. Let's not forget it's in a losing cause. Scoring a hundred when you are the team winning, that's excellent stuff. He should be quite happy, and humble in himself.
"(But) if you are losing 5-0 in a football match and you score a goal in the 90th minute, you shouldn't be running around jumping for joy. I wouldn't be happy with that. I set my standards a bit higher. I'm glad he got the motivation to get himself going."
Ramdin's actions were also criticised by former West Indies fast bowler Michael Holding.
"Why should a sportsman be trying to demonstrate out on a field, hitting back at some critic?" Holding said in his commentary on Sky Sports. "If you have made a hundred runs you have done what you are being paid to do.
"If I was the manager of the team I would be having a word with that player and he would be getting a fine. I am not saying this because he (Richards) was my former captain -- that is simply unbecoming behaviour from a player."