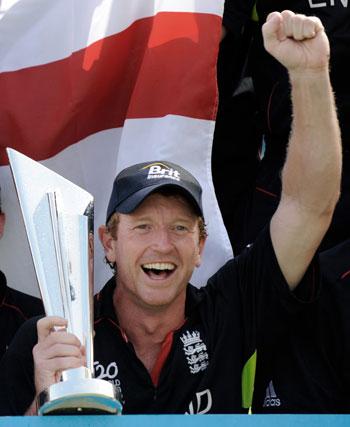 After leading England to their maiden ICC tournament title by winning the Twenty20 World Cup in Bridgetown, captain Paul Collingwood said the triumph as important as Ashes victory.
"It's right up there, it's got to be, this is the first World Cup we've ever won," Collingwood said when asked to compare the T20 World Cup triumph with victory in Ashes against arch-rivals Australia in the five-day format.
"We've got some good players in the side, and with the work ethic we've had this year I think we're starting to see the results on the pitch. We're getting there, and we have today," he said after England crushed Australia by seven wickets in the grand finale at Kensington Oval.
Collingwood, who was a member of the 2005 Ashes-winning squad, said his side thought they had a chance to lift the trophy after they reduced Australia to eight for three in the third over after he inserted Michael Clarke's men.
"When you want to be the best you've got to beat the best. When we got them three wickets down early doors, we gave ourselves a great opportunity. We want to kick on from this. This is the first trophy we've ever won, we're going to enjoy it, we are going to savour it," he said.
Australian captain Michael Clarke said was disappointed that his side ended losing in the final after playing so well throughout the tournament.
"We did not score too many runs today. Congratulations to England, they played really well today. We played good cricket throughout the tournament. It is disappointing that we lost in the final," he said.
Kevin Pietersen, who was adjudged Player of Tournament with 248 runs in the competition, attributed the triumph to collective effort.
"A pretty interesting week for me, a little kid on Monday and this trophy today. This is for the whole team. Winning is a habit you create, and this team is hungry for success. What a great tournament for the boys. It's never easy playing Australia, but our bowlers did a great job today and 150 wasn't enough," he said.