Former Australia skipper Steve Waugh celebrated the harvest festival Vishu with locals in Kollam, Kerala, by lighting the traditional lamp to mark the beginning of New Year according to the local calender.
Waugh delighted the locals with his presence at a private function.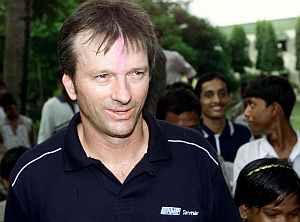 The festival is believed to signal good fortune in the coming year.
Waugh was present to mark the launch of the operations of the Australia-based OGM Technical Institute, of which he is the brand ambassador.
Waugh, 47, led Australia in15 of their world-record 16 consecutive Test wins and to the 1999 World Cup title, playing 168 Tests and collecting 10,927 runs.
He has also scored over 7500 runs in 325 One-day Internationals.