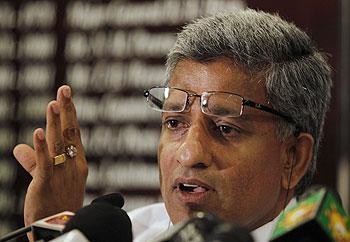 Sri Lanka Cricket has finally decided to back the controversial ICC revamp plan proposed by India, England and Australia, saying it is satisfied with the revised resolutions tabled at the Board meeting of the world body earlier this month.
SLC arrived at the decision at its Executive Committee meeting on Monday, a few days after it refrained from voting on the revised proposals at the ICC Board meeting in Singapore on February 8.
It had then said it needed more time to discuss them.
"The Executive Committee met today (February 17th) at SLC headquarters to converse regarding the revised resolutions forwarded by the ICC at the ICC Board meeting held on 8th February 2014 in Singapore," SLC said.
"Subsequent to the committee members assessing the revised resolutions in detail, all members were satisfied with the amendments made in the areas of governance and competition models and thus unanimously decided to support the paper.
"Further the Executive Committee proposed the relevant officials to engage in discussions with other member nations to negotiate bi-lateral tours in the FTP (Future Tour Programme) which are in a favourable manner to SLC," it added.
SLC secretary Nishantha Ranatunga said supporting the 'Big Three' would benefit Sri Lankan cricket.
Sri Lanka Cricket will earn a revenue of around "USD 47-48 million" through series with the three countries in the next seven years.
"When you calculate, a series with these three countries will bring us a revenue of USD 47-48m. People who talk about principles will not give us the money. We have to make our money from these tours so that our cricket don't suffer," Ranatunga said.
India is due to tour Sri Lanka in 2017 and Ranatunga was hopeful that the FTP drawn up till 2018 will not be affected.
Image: Nishantha Ranatunga
Photograph: Dinuka Liyanawatte/Reuters