Out-on-bail India pacer Shantakumaran Sreesanth has started training for the first time after being embroiled in the spot-fixing scandal, and expressed hope of getting back on the field soon.
"Started training again..gods grace..first day..slowly getting back to normal life..thanks a lot for all ur support..," Sreesanth wrote on his Twitter handle.
Sreesanth and his two Rajasthan Royals teammates, Ajit Chandila and Ankeet Chavan, was arrested by the Delhi police for alleged involvement in spot-fixing in IPL 6.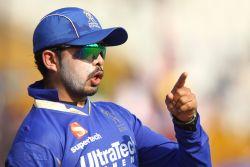 "Will keep working hard nd wait..nd be patient ..hopefully I will be able to get back on field sometime soon ..jai mata di," the tainted pacer tweeted.
Sreesanth had to spend 27 days in Tihar jail before getting bail on June 11.
He will soon depose before the BCCI-appointed commission for spot-fixing charges levelled against him.
Photograph: BCCI