A reproachful Tim May says the financial model, on which cricket is run globally by mighty India, has to end if the game is to be saved from a running into a serious crisis.
May was recently replaced controversially in the ICC Cricket Committee amid allegations that India forced a re-vote into the election and imposed its own candidate in Laxman Sivaramakrishnan on the members' boards.
May, who headed the players organisation FICA for eight years before handing the baton to Paul Marsh, said ICC was not being run properly and if it continues this way, soon world cricket will face a crisis.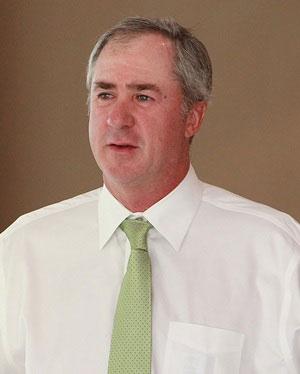 "You would like to think there are people who are strong within that board who would say, 'hey let's not wait until there is an absolute crisis'. I am not sure that point has yet quite been reached but all the signs are that it will be if we continue the slide," May said.
"You can muddle along but you will deteriorate. I think you're going to run out of thumbs to plug all the leaks. Out of the countries that play international cricket, let's not paint a rosy picture here: Zimbabwe essentially broke, Sri Lankan cricket essentially broke, Bangladesh essentially broke or thereabouts, Pakistan, I don't think they're doing very well financially, the West Indies cricket board broke.
"We have got a model where there is going to be a moment in time where a number of Test-playing countries are actually going to fall over. We can't keep muddling on, the financial model needs to change and has to change," May was quoted as saying by The Independent.
May, who played played 24 Tests for Australia and appeared in two Ashes-winning series, loathed the way Woolf Report was ignored by the ICC. The report had recommended sweeping changes in running of the game.
"The Woolf Report highlighted that the ICC is basically a boys club with the Test countries making decisions. The associate countries are discriminated against and even within that boys club there is discrimination among them where basically the powerful get their way and enforce voting by threats, intimidation, under-the-table deals. Typically the currency is fixtures against the larger nations," he said.
May said the member boards need to show some courage and learn to say no when it has to be said.
"The other nine countries who sit on the executive committee have to take responsibility because after all they can say, 'No, we're not going to put up with this nonsense any more. We're not going to continue to give into threats and intimidation and feed the power of the schoolyard bully'."
May also felt that the spot-fixing scandal in IPL may bring in some positive changes in administration of the game by India. He said if it still does not happen, the game of cricket will find itself in more trouble.
"What has happened to our principles? Everything isn't about making more money. You don't want to prostitute yourself just to make more money. But when your commercial interest suffocates your principles and the pillars you built your sport on, you're in trouble," he said.
Image: Tim May
Photograph: Jan Kruger/Getty Images