Pakistan cricketers Salman Butt and Mohammad Amir have filed appeals against their bans with the Court of Arbitration of Sport (CAS) in Switzerland.
Former Test captain Butt and pace bowlers Amir and Mohammad Asif were found guilty of corruption by an ICC tribunal earlier this month for bowling deliberate no balls during a Test against England last August and were banned for a minimum of five years.
Amir confirmed to Reuters on Saturday that his lawyer, Shahid Karim, had dispatched the appeal to CAS, sport's final court of appeal.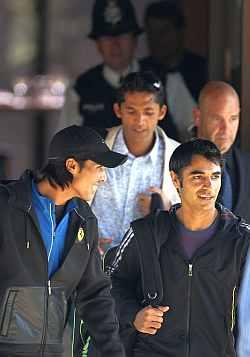 "My lawyer, who will also be representing me in pursuing this appeal, dispatched all relevant documents yesterday. They should reach the concerned authorities today," Amir said.
Sources close to Butt also confirmed he had also filed his appeal through his lawyer based in London.
"Yes, Salman has also sent his appeal after consultations with his lawyer," a source told Reuters.
Asif is currently in London and was unreachable for comment on his position regarding an appeal.
The trio also face criminal charges of accepting bribes and trying to defraud in a case brought by the Crown Prosecution Service and must appear in a magistrate's court on March 17 in London.
Amir said he was confident that the appeal would be successful.
"It is a long battle ahead of us to prove our innocence but it is something I will pursue to the end. I want to prove my innocence," Amir said.
Butt is presently working as a cricket pundit with a Pakistan television channel, Channel 5, for the World Cup, a move that has left the ICC unhappy.
- Photograph: Getty Images