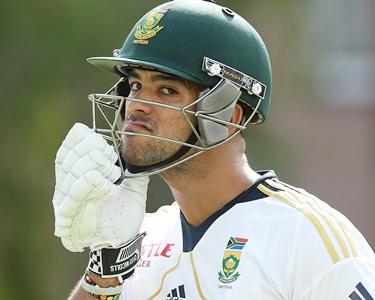 South Africa's batsman J P Duminy insisted that it would be a folly to write off the visitors in the remainder of the three-match series.
-Second ODI: Can the tide turn in India's favour in Durban?
Though India suffered an embarrassing defeat at the hands of South Africa in the first ODI in Johannesburg but Duminy is more than polite.
South Africa crushed the world number one side by a massive 141 runs at the Wanderers on Thursday, but Duminy said India can bounce back in the series and his team will have to be prepared for that.
"It will be naive of us to write them off. There were some bumps and bruises, but like I said, it will be stupid of us to write them off," Duminy said ahead of the second ODI at Kingsmead on Sunday.
"You only get to the top of the world rankings by putting in continuous performances like they've done, and I'm sure they're going to bounce back, which we'll have to be prepared for. We're going to have to put in another big performance to make sure we go 2-0 up," he was quoted as saying by the South African media.
Duminy, who played a big role in South Africa's win in Johannesburg with a 59 not out, felt that his side produced a totally transformed display from the one they had put on in their recent 1-2 home series loss to Pakistan.
"Yes, the guys were really geared up for the challenge (in the first ODI). Beating India was going to be a challenge, especially with the form they brought into the series. So we were pretty fired up to start the series well, especially with a short three-game series. We're pretty pleased to have done that."
Reminded that the Indians came to the country on the back of a series wins over West Indies, Australia and England at the start of the year, Duminy said what really mattered was the performance in a particular game.
"I think if you don't have that desire in each and every game, then you're probably playing the wrong sport. There are going to be days when it's not as hyped up ... It's just about making sure you give your 100 per cent throughout the game."
Image: JP Duminy
Photograph: Chris Hyde/Getty Images