A Delhi Court on Friday convicted six Harkat-ul-Jehadi Islami (HuJI) militants, including three Pakistanis, for plotting to kidnap cricketers Sachin Tendulkar and Sourav Ganguly in 2002.
Additional Sessions Judge Pinki held HuJI terrorists guilty of conspiracy to kidnap Tendulkar and Ganguly in 2002 allegedly to secure the release of their jailed accomplices.
The court would pronounce the quantum of sentence against the militants on January 7.
The three Pakistan-based militants, Tariq Mohammed, Arshad Khan and Ashfaq Ahmed, had confessed that they conspired to kidnap cricketers for securing the release of two jailed HuJI terrorists Nasarullah Langrial and Abdul Rahim who were then lodged in jails in Delhi, according to the prosecution.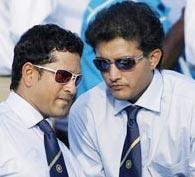 The plot to abduct the cricketers did not succeed as the terrorists could not get the logistic support to execute their design, police had claimed in the chargesheet.
Besides the three Pakistan-based terrorists, three Indians -- Mufti Israr, Ghulam Qadir Bhatt and Ghulam Mohd Dar -- were also part of the conspiracy, it had said.
All the militants, including key accused Jalaluddin who was declared a proclaimed offender during the trial, had also planned to attack the Bhaba Atomic Research Centre (BARC) in Mumbai and assassinate former president A PJ Abdul Kalam during his Patna visit in 2002, the chargesheet had said.
All the accused were booked under tough anti-terror law Pota, IPC and the Explosives Act which provide for maximum sentence of death penalty.
They were charged with hatching conspiracy to wage a war against the state and keeping explosives.