Pakistan's sacked and retired captain Shahid Afridi on Thursday refused to apologise for his alleged violation of the PCB's Code of Conduct, but said he is ready to accept any verdict of the disciplinary committee.
Afridi, who appeared before a disciplinary committee of the Pakistan Cricket Board, admitted that he committed mistakes but said circumstances forced him to.
- PCB administrators are disgraceful people: Afridi
"I admit I have made mistakes but the circumstances forced me to do things. But I have not apologised to the committee," Afridi told reporters after the hearing.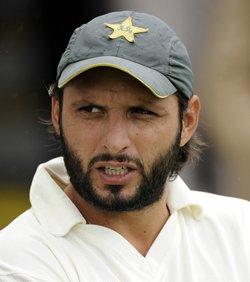 "Whatever decision the committee takes it will be acceptable to me. I had outlined all the reasons and circumstances that led to my dispute with the Board and strained relations within the team management," he said.
Afridi is expected to be issued the NOC to play for Hampshire in the English Twenty20 domestic league after the disciplinary committee, headed by Sultan Rana, gives its verdict.
The dashing all-rounder appeared before the committee following a meeting with PCB chairman Ijaz Butt earlier this week. A deal was struck under which Afridi  would withdraw his petition from the Sindh high court against the disciplinary proceedings.
The second part of the deal was that Afridi would inform the Board that he was willing to face the disciplinary committee whose legality and status he had challenged in his petition to the high court.
The row between the PCB and Afridi started when the former sacked him as ODI captain and then the experienced all-rounder unilaterally announced his retirement. He blasted the Board for mistreating him and not showing respect to the players.
The PCB revoked the NOC issued to him to play for Hampshire and Sri Lankan Premier League and also started disciplinary proceedings against him.