Pakistan Cricket Board (PCB) chairman Ijaz Butt has warned sacked ODI captain Shahid Afridi to either appear before the disciplinary committee on Wednesday or be prepared for a unilateral decision against him by the panel.
Butt told a television channel that all the political support that the sacked one-day team captain was trying to generate would not affect the working of the disciplinary committee.
The 31-year-old all-rounder has been summoned by the board's disciplinary committee for a hearing on Wednesday.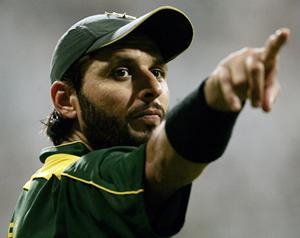 But Afridi and his lawyers, while contesting the process of the disciplinary proceedings against him, have said it would be useless for them to attend the hearing in present circumstances.
"That is their decision but the board has set up the disciplinary committee and is following all due process of law written down in the board regulations and constitution and there should be no ambiguity about that," Butt said.
"If he does not attend the hearing as directed than the committee can take a decision against him in absentia," he added.
Butt also made it clear that the board had no personal grudge with Afridi but could not allow players' power to take root again in the team.
"The way he has behaved and violated the code of conduct it is a worst example of players power. We will not allow that to happen. We are doing everything by the book. His NOC's have also been revoked not by the board but by the disciplinary committee," he said.