India openers Virender Sehwag and Gautam Gambhir were on Monday named in the Delhi team for the Ranji Trophy starting in November.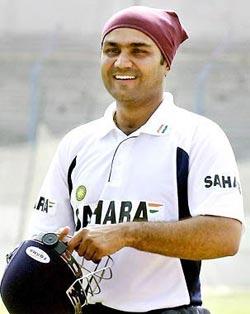 The Ranji Trophy Selection Committee met on Monday evening at DDCA and announced the 28-member team for the Ranji Trophy.
The players will have to report to chief coach Manoj Prabhakar at the Ferozshah Kotla Ground on in New Delhi on Wednesday.
The meeting was also attended by coach Prabhakar, chairman Chetan Chauhan, Vivek Razdan, Hari Gidwani, Vinay Lamba and secretary general (sports) Dr SS Sareen.
Team: Virender Sehwag (C), Gautam Gambhir (VC), Virat Kohli, Shikhar Dhawan, Mithun Manhas, Ashish Nehra, Rajat Bhatia, Ishant Sharma, Puneet Bisht, Chetanya Nanda, Gaurav
Chhabra, Yogesh Nagar, Sumit Narwal, Pradeep Sangwan, Parvinder Awana, Sunny Sehrawat, Rahul Yadav, Farman Ahmed, Shawez Khan, Joginder Singh, Ankur Julka, Tushar Pant, Rakshit Pant, Abhishek Singh, Kunal Lal, Abhishek Sharma, Unmukt Chand, Mohit Sharma.