Kumar Sangakarra celebrated his 350th One-Day International appearance with a career-best 169 on Saturday as Sri Lanka crushed South Africa by 180 runs at R Premadasa Stadium in Colombo.

His innings was the third-highest by a Sri Lankan in 50-over cricket and came off 137 balls, with 18 fours and six sixes.

It carried the home side to 320 for five, a total South Africa never threatened as they were bowled out for 140 inside 32 overs.

The Proteas, missing leading batsman Hashim Amla, won the toss and chose to bowl, but only Morne Morkel (2-34 in 10 overs) found line and length.

Sangakarra started cautiously. He scored his first 66 runs off 91 balls, but the next 103 came off just 46 deliveries.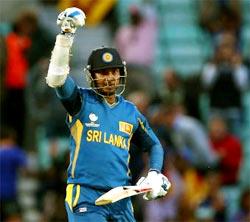 He shared a 123-run partnership for the fourth wicket with Lahiru Thirimanne, who scored 17 of those as Sangakarra dominated.

"It was a bit two-paced," said Sangakarra afterwards in a television interview. "It was about facing enough deliveries... I took 34 overs to get going, but I stuck in there. Morkel bowled good spells -- it was about absorbing that and targetting the others."

South Africa lost Colin Ingram for a first-over duck and never looked as if they could threaten the home total, Alviro Petersen and Robyn Peterson top-scoring with 29 apiece.

Spinner Rangana Herath was the pick of the bowlers with three for 25, while Thisara Perara grabbed three for 31.

"It's not the end of the series, I know my boys will fight back," Proteas captain AB de Villiers said.

"Not a lot of positives, but we can only improve. It is mentally hard to accept, but we will fight back.

"We were way below par, but I know what the players are capable of..."

The result represents Sri Lanka's biggest margin of victory over South Africa, in terms of runs.

The second one day international will be on Tuesday at the same venue.
Scorecard:

Sri Lanka
U. Tharanga b Morkel 43
T. Dilshan b Morris 10
K. Sangakkara c Duminy b Phangiso 169
M. Jayawardene c Ingram b Morkel 42
L. Thirimanne c Peterson b McLaren 17
T. Perera not out 16
D. Chandimal not out 1

Extras (b1, lb-5, w-15, nb1) 22

Total (for five wickets, 50 overs) 320

Did not bat: J Mubarak, R. Herath, S. Eranga, L. Malinga

Fall of wickets: 1-23, 2-93, 3-167, 4-290, 5-303

Bowling: M. Morkel 10-2-34-2 (w4), C. Morris 9-0-80-1 (w6), R. McLaren 10-0-69-1 (nb1, w2), R. Peterson 5-0-30-0, JP Duminy 7-0-51-0 (w1), A. Phangiso 9-0-50-1 (w1)

South Africa
C. Ingram b Malinga 0
A. Petersen c Sangakkara b Perera 29
JP Duminy C Sangakkara b Eranga 15
AB De Villiers b Herath 23
F. Du Plessis c Chandimal b Perera 4
D. Miller b Dilshan 14
R. Peterson C Theranga b Perara 29
R. McLaren c Perera b Dilshan 4
C. Morris not out 9
M. Morkel c Thirimanne b Herath 0
A. Phangiso st Sangakarra b Herath 0

Extras (b-4, lb-7, w-2) 13

Total (all out, 31.5 overs) 140

Fall of wickets: 1-0, 2-29, 3-73, 4-75, 5-82, 6-103, 7-119, 8-138, 9-138, 10-140

Bowling: L. Malinga 4-1-21-1, S. Eranga-5-0-27-1, T. Perera 7-0-31-3, R. Herath 8.5-1-25-3, T. Dilshan 5-0-11-2, J. Mubarak 2-0-14-0

Result: Sri Lanka won by 180 runs

Sri Lanka lead the five-match ODI series 1-0.
Photograph: Paul Gilham/Getty Images