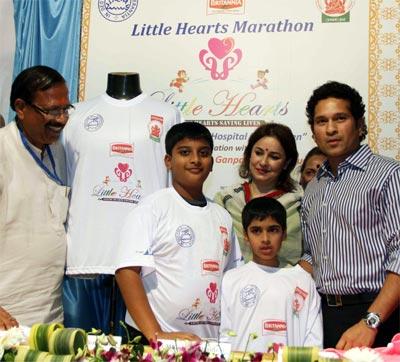 Former India batting legend Sachin Tendulkar has donated Rs 10 lakh towards a ventilator for the Bai Jerabai Wadia Hospital for Children in Mumbai.
"I know it is not normal for me to make public announcements, but I, along with my wife Anjali, would like to donate Rs 10 lakh to sponsor a ventilator for the hospital.
"In our personal capacity we would always try to raise awareness and also try to raise money. People should not hesitate to put hands in their pocket and donate generously for this cause and I hope we are able to do that," said Tendulkar, on Tuesday, as he handed the cheque to the hospital authorities at the launch of the Little Hearts Marathon, in association with the Siddhivinayak Temple Trust to create awareness on prevention of cardiac disease in children.
Tendulkar, who also took a round of the hospital and interacted with children in the different wards, was pained at seeing the kids undergoing treatment.
"I was walking through the ward and I got numb when I met one girl there who many years ago had to come to the hospital for treatment, but at that time she could not treated as she didn't have money. Today she has money but unfortunately cannot be treated.
"It is one of those rare cases where nothing can be done. As a parent I feel it is so difficult to accept that you are soon going to lose your children and that thought numbed me completely," he added.
The batting icon, who retired from cricket last November, urged the public to come forward and donate generously to the cause.
"I would urge each and every person to contribute in every way possible; it may not be in thousands or lakhs but in whatever way they can it is always welcome," he said.
Photograph: Sahil Salvi