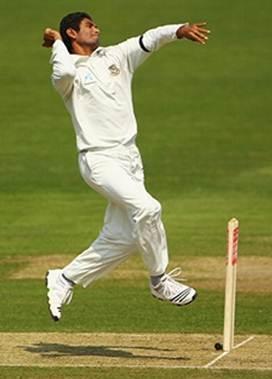 Bangladesh all-rounder Shakib Al Hasan picked all three wickets to fall as New Zealand put up 107 for three before rain returned to halt play on Day 2 of the second and final Test on Tuesday.
Kane Williamson (28) and former captain Ross Taylor (37) were at the crease when a heavy downpour washed out the last session for the second day running.
The Kiwis trail by 175 runs.
Former Bangladesh skipper Shakib dismissed openers Peter Fulton (14) and Hamish Rutherford (13) before lunch and added the wicket of captain Brendon McCullum (11) in the afternoon.
Williamson retired hurt with a swelling on his face, after being hit on the helmet grill while trying to duck under a Rubel Hossain bouncer, but to New Zealand's relief returned to the crease at the fall of McCullum's wicket.
Earlier, left-arm paceman Neil Wagner snared three wickets to add to his overnight tally and complete his first five-wicket haul in Tests as Bangladesh were all out for 282 after resuming on 228 for five in the morning.
Wagner, who replaced spinner Bruce Martin for the second Test, claimed the wickets of captain Mushfiqur Rahim, Sohag Gazi, the centurion in the last Test, and Rubel.
Young leg-spinner Ish Sodhi bagged the remaining two wickets to fall to take his innings total to three.
The first match of the two-Test series ended in a draw.
Scorecard
Bangladesh (1st innings): (overnight 228-5)
Tamim Iqbal c Williamson b Wagner 95
Anamul Haque c Williamson b Boult 7
Marshall Ayub b Wagner 41
Mominul Haque c Watling b Anderson 47
Shakib Al Hasan lbw b Sodhi 20
Mushfiqur Rahim c Fulton b Wagner 18
Nasir Hossain c Taylor b Sodhi 19
Sohag Gazi c Williamson b Wagner 14
Abdur Razzak b Sodhi 13
Rubel Hossain c Watling b Wagner 4
Al-Amin Hossain not out 0
Extras: (B2,LB1, W1) 4
Total: (all out, 74.5 overs) 282
Fall of wickets: 1-23, 2-90, 3-166, 4-208, 5-228, 6-246, 7-252, 8-266, 9-274, 10-282.
Bowling: Boult 16-2-55-1, Bracewell 14-1-57-0, Wegner 19-5-64-5, Sodhi 18.5-3-59-3, Williamson 4-0-30-0, Anderson 3-0-14-1.
New Zealand (1st innings):
Peter Fulton lbw b Shakib 14
Hamish Rutherford c Mominul b Shakib 13
Kane Williamson not out 28
Ross Taylor not out 37
Brendon McCullum c Rubel b Shakib 11
Extras: (B4) 4
Total: (for three wickets. 33.3 overs) 107
Fall of wickets: 1-31, 2-32, 3-101.
Bowling: Al-Amim 6-3-14-0, Sohag Gazi 6-0-13-0, Shakib 11-1-25-3, Razzak 5-1-33-0, Rubel 5.3-0-18-0.
Image: Shakib Al Hassan
Photograph: Matthew Lewis/Getty Images