B Manoj Kumar and Mohamed Shaibaaz Tumbi, who registered a world record partnership of 721 runs in an inter-school match, say they had planned to play out the entire 40 overs and score as many runs as possible.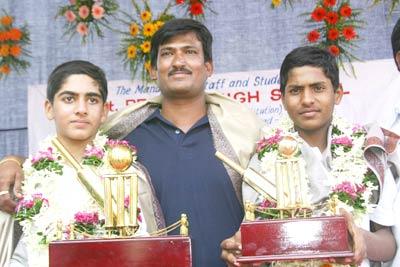 The 13-year-olds struck unbeaten triple centuries each in the Under-13 inter-school one-day cricket match in Hyderabad on Wednesday to wipe out the long-standing record of 664 runs achieved by Sachin Tendulkar [ Images ] and Vinod Kambli  for the third wicket in 1987-88 for their school Sharadashram Vidyamandir in Bombay.
The youngsters were felicitated at St. Peters School in Bowenpally, on the northwestern outskirts of the city, at a simple function on Thursday morning.
The two batsmen were awarded cheques of Rs. 5000 each by principal Saroja amidst loud applause from their school mates.
Coach Harish Kumar (in pic) was all praise for his wards, students of class eighth.
"While Tendulkar and Kambli created the record in three days, our boys scored 721 runs in 40 overs," he said.
"We thought of playing full 40 overs and scoring centuries because first year's selection is very important," said Manoj, whose role model is Yuvraj Singh [ Images ].
Shaibaaz, who idolises Tendulkar, said: "Actually we didn't plan this. We just kept on playing. We thought we have to stick for 40 overs on the wicket".
Manoj cracked 320 off 127 balls studded with 46 boundaries while Shaibaaz hit 324 laced with 67 hits to the fence for St. Peter's High School at the Gymkhana Ground against St. Phillip's High School.
It is a first instance of two triple centuries being scored in the same innings in limited-overs cricket.
Their baffled opponents folded up for 21 in 7 overs.
Manoj and Shaibaaz said their rivals were so tired of fielding that they stopped chasing the ball towards the end.
"In almost 15 overs, he completed his century and I completed my 120 runs. So they were really tired and were just walking and not running behind the balls," Shaibaaz said.
"The umpires were also telling us that you just declare and go because they [the opponents] cannot outscore you. But we said we want to at least complete 300 runs and then more," he added.
Asked what were they telling each other during their stint in the middle, Manoj said: "We were telling that let us score competitively. We should play our natural game and play according to the merit of the ball".
He, however, denied that there was any kind of competition among them.
"He [Shaibaaz] was scoring faster than me, completing the double and then triple century first. But lastly I gained concentration and scored 320," Manoj said.
"When we crossed 600-mark, our coach told us '64 more runs' and we were set for a record. We got those runs quickly and completed the record," Shaibaaz said.
Despite their world-record feat, Shaibaaz and Manoj have their feet firmly on the ground and are not taking their places in the team for granted.
"We don't think so. There are players who are better than us. They will also play and try to get the runs," said Manoj.
"Triple century does not mean that we are on the tree. We have to learn more techniques and think how to get further."
Top six partnerships of 600-plus in minor cricket:
| | | | |
| --- | --- | --- | --- |
| Runs | Wkt. | Pair | Match details |
| 721* | 1st | B.Manoj Kumar & Md.Shaibaz Tumbi | St. Peter's High School v St. Phillips at Secunderabad in 2006-07 |
| 664* | 3rd | V G Kambli & S R Tendulkar | Sharadashram Vidyamandir v St. Xavier's at Bombay Gymkhana in 1987-88 |
| 641 | 3rd | T Patton & N Rippon | Buffalo v Whorouly at Gapsted in 1913-14 |
| 623* | 2nd | W C Oates & F J Fitzgerald | 1st Royal Munster Fusiliers v Army SC Dublin in 1895 |
| 605 | 2nd | A H Trevor & G F Vernon | Orleans Club v Rickling Green at Rickling Green in 1882 |
| 601* | 2nd | Mohsin Khan & Saeed Khan | Karachi Whites v Hyderabad (Under-19) at Karachi in 1972-73 |
Photograph: Snaps India [ Images ]