For a short man, Sachin Tendulkar casts a long shadow; it is not often he scores a century, and is completely upstaged.
But then, it is not often we have seen Tendulkar batting opposite a VVS Laxman on song; in his mood of the second morning of the Sydney Test, Laxman made Tendulkar look positively pedestrian.
It is an unfortunate part of a reporter's job that at times he has to rely on cold, emotionless numbers to tell a story. For want of a better tool, here they are:
In the morning session, India added 103 runs to its overnight total, off 30 overs. Of these, Laxman scored 65 off 92 deliveries with 13 fours; at the other end, Tendulkar made 37 off 89 deliveries with six fours.
Brett Lee was supposedly the danger man in the morning, bowling with a ball just 10 overs old. The blond super quick went for two fours in his first over, three in his second; the 17 deliveries he bowled to Laxman this morning went for 21 runs.
Even the impeccable Gillespie wasn't spared – 15 runs, including three classic boundaries, came off 23 balls.
The numbers are impressive; the strokes that put those numbers against his name were magical. Lee's away-seamer was square cut in front of point, then back cut behind the same fielder. His yorker length deliveries were twice flicked, effortlessly, through midwicket; the only person you've seen play that shot is Laxman's self-confessed role model, Mohammad Azharuddin, against Lance Klusener in Kolkata.
The geometry of Laxman's batsmanship today was reminiscent of John McEnroe on the tennis court; it was of Mac that someone once famously said, 'He hits angles the rest of us don't even see.'
It's strange how things work out; how a little thing can make (and mar, but that is a different story) a person's life, a little word at the right time shape his career.
Think back four years – to January 3, 2000, at this same ground. On that day, Laxman was about to play what was probably his last Test match.
His scores on that tour thus far had been 41 and 0 in Adelaide; 5 and 1 in Melbourne. Going into the third Test, at the Sydney Cricket Ground, his epitaph had already been written – he was, they said, a leaden-footed misfit who could only make runs against domestic attacks on Indian featherbeds.
A 7 in the first innings merely underlined that impression.
Behind the scenes, though, something had happened. Former Australian Test spinner Gavin Robertson, then playing for New South Wales, had his first look at Laxman a little over a month earlier, when he made part of the NSW team that played the touring Indians in a warm up game.
In that game, Laxman had made 37 in the first innings, and a second ball duck against none other than Brett Lee in the second – yet, Robertson went away impressed.
Robertson caught up with Laxman again in Sydney; on January 3, the two met and had a casual chat about matters cricketing.
Laxman told Robertson of how hard he found the going. Relax, Robertson told him; you are a stroke player, you need to remember that in Australia, while the ball does bounce, the bounce is even. Keep that in mind, decide whether you want to be on the front or back foot early, and play your shots without fear.
Basic advice, the kind you would think batsmen at this level wouldn't even need. But the result was magical. Next day, Laxman went out to bat for the last time in the series; by then, he knew he had been dropped from the one day squad and was being recalled home, he probably assumed that his international career had ended.
There is a camaraderie among players that knows no boundaries, whether of geography or nationality; an Anil Kumble and a Shane Warne will share tips and tricks, a Wasim Akram will go out of his way to coach a Zaheer Khan, an Ashish Nehra, an Irfan Pathan...
Players give, and take, advice all the time from their peers -- yet, this incident was remarkable. Think about this: just what promise did Robertson see in Laxman, whose performance till then was shambolic, that prompted him to give that bit of unsought advice? And just what magic did those basic cricketing words work for Laxman, that he was transformed, from that moment on, as if with a wave of a magic wand?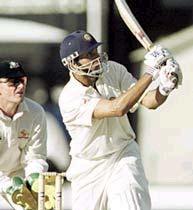 He went out there, the next morning, with nothing to lose and Robertson's advice to the good, and lashed an incredible 167 off 198 deliveries in 255 minutes, with 27 fours.
It was a one-man show like few others in the history of the game. Laxman made 167; the rest of the side together managed 94. Ganguly was second highest with 25; extras came third with 21.
India lost Dravid for no score, Tendulkar for four. Yet, India's 50 came up in 53 minutes and 11.1 overs; Laxman's own 50 took just 55 balls. India's 100 came off 24.3 overs, the 150 off 31.6 overs; Laxman reached his own hundred off just 114 balls; his 150 took 172 deliveries. With Anil Kumble, Laxman put on 50 in 37 minutes off 57 balls; of these, Kumble managed 15 off 45 deliveries; Laxman brought up the other 35 off just 12 deliveries.
You can go on and on, reeling off numbers relating to that innings without ever capturing its mesmeric quality. No one knew it then, but that innings, brilliant as it was, was merely the prelude.
Laxman's subsequent outings against Australia have fetched 20, 12, 59, 281, 65, 66, 75, 24 not out, 148, 32, 19, 18, and at the time of writing this, 95 not out.
More than those numbers, what has stood out is the way he has outplayed the Aussies at their own games – not only has he tamed every bowler the Aussies have thrown at him, he has scored at the sort of pace the Aussies themselves would admire.
As I write this, Laxman has, in the post lunch session, taken a very good ball from Brett Lee and cover driven him with silken grace to reach 98. He is two short of what will be his fourth century against Australia.
I don't want to miss another minute of this. You guys won't, either – a very very special batsman is out there, batting out of his skin.
Also see:
- The making of Sehwag
- Ramesh dismissed in Sydney
- Chopra's contribution