On cloud nine following his selection to the Indian team for the first Test against England, promising leg spinner from Moradabad Piyush Chawla said he would justify the selectors' faith in him by exploiting the English batsmen's inherent weakness against leg spinners.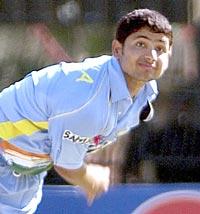 With the inclusion of Mohammad Kaif, medium pacer R P Singh, all-rounder Suresh Raina and Chawla in the 15-member squad, four players from Uttar Pradesh figure in the senior national side for the first time in the history of Indian cricket.
Speaking over phone, the 17-year-old Chawla, who was the vice-captain of the India Under-19 side that lost to Pakistan in the final of the World Cup in Sri Lanka, said it is a great honour to become part of the senior national team.
''It is an honour to even share dressing room space with global stars like (Sachin) Tendulkar, (Rahul) Dravid and (Irfan) Pathan, under the guidance of seasoned coach Greg Chappell,'' he said.
Interestingly, it was Chappell only who spotted the talented leggie during the last Challenger Series, when the diminutive lad foxed and claimed the scalps of master blaster Tendulkar, Yuvraj Singh and V V S Laxman.
Chawla, who also exhibited his handy batting prowess with an unbeaten 25 against the Pakistan under-19 in Sri Lanka, however, regretted that he is being compared with the great Anil Kumble.
"He is a great bowler while I am still a greenhorn; making such comparisons is improper,'' asserted Chawla, who said he is presently mastering the art of back-spin.
Asked whether he has any special plans for the Englishmen, he said he has no specific strategy and neither has he picked any of the English willow-wielders for special treatment.
''With England still riding on the Ashes success and having batsmen like (Michael) Vaughan, (Marcus) Trescothick, (Andrew) Strauss, (Andrew) Flintoff in their ranks, it is going to be an extremely difficult series, but I will try my best to live up to the expectations of the selectors,'' he added.
Chawla, who is a rare breed of right arm googly bowlers, was also part of the Uttar Pradesh's Ranji Trophy-winning team. In the final against Bengal, he bagged five wickets in the first innings, which played a key role in the northern state winning their maiden title on the basis of the first innings lead.