The Pakistan Cricket Board has no immediate plans to make any changes in the national team management and Misbah-ul-Haq and Mohammad Hafeez will continue as captains of the Test, ODI and T20 teams respectively.
A senior official of the board said PCB chairman Zaka Ashraf was satisfied with the work done by Hafeez as the national T20 captain and also had reposed confidence in Misbah as captain of the Test and ODI teams.
"They are no plans to make any changes in the team management and the same set up will continue for the tours to India and South Africa starting from December," the official said.
"The chairman had long discussions with Hafeez and coach Dav Whatmore and he feels that while Hafeez did a good job gelling the team there is no reason to immediately search for a new captain for the test and ODI teams," the official said.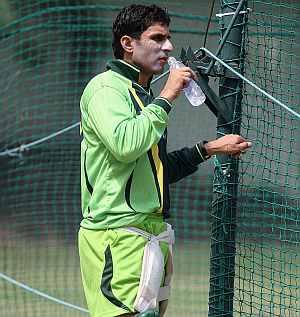 Misbah, 38, is having a lean time in the ongoing Presidents Trophy first class tournament, but said he was confident runs were just around the corner.
Misbah bagged a pair in his first match of the season for Sui Gas and has managed a mediocre tally of 102 runs at an average of 17 for SNGPL.
But the senior batsman informed, he was not alarmed or concerned with his lack of form.
"It happens and I can sense the runs are around the corner already in the last match I stayed at the crease for a while and the confidence is returning," he said.
The right hander said he was working hard and wanted to be in prime form before the tours to India and South Africa.
"I am sure the runs will come when the tournament starts after Eid break as lot of matches remain in the season."
Misbah and Hafeez play for the same domestic team.
Misbah also appreciated the PCB's decision to use Kookaburra balls in domestic cricket and said it would help players to adjust when they feature at the international level.
The PCB's decision came following complaints from various players regarding the use of sub-standard balls at the President's Trophy.
"I feel the decision of using Kookaburra balls will at least help in decreasing the gap between domestic and international cricket. Both bowlers and batsmen will get a fair idea of how the ball behaves."