The Pakistan Cricket Board has fined runaway wicketkeeper Zulqarnain Haider half a million rupees ($5,200) but allowed him to resume playing cricket under probation.
Haider fled the team hotel in Dubai last November while playing in a one-day series against South Africa and landed in London.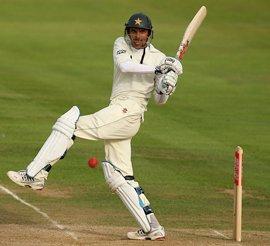 He said he had been threatened by an unknown person who wanted him to cooperate in match-fixing during the series.
- Afridi fined Rs 4.5m, but can play abroad
He returned home in April after getting security assurances from Interior Minister Rehman Malik and was told to appear and face disciplinary proceedings by the PCB.
"I know what I did was wrong I should not have left the team hotel like that and I should have spoken to the team management at that time," Haider reporters on Friday after the hearing.
"I have told the committee I want to close this matter and I accept I violated the code of conduct. I told them to consider my case on compassionate grounds as my father is a cancer patient who requires my support and care."
PCB legal advisor Tafazzul Rizvi said that Haider's case had been dealt with on compassionate grounds and mitigating circumstances were taken into consideration.
"It is discretion of the committee to impose sanctions and they have fined him half a million and put him on a one-year probation," he said.
Haider who made his Test debut last year against England at Edgbaston, scoring 88 runs, said he had no evidence to support his allegations or claims.