Wayne Parnell and Simon Harmer put South Africa 'A' with a respectable 231 for six on the opening day of the second unofficial Test in Pretoria on Saturday.
Though India 'A' bowlers ripped through South African top order but let the hosts escape with a respectable total.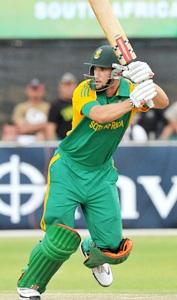 The left-handed batsman, Parnell and Harmer were on 64 not out and 68 not out respectively.
There were impressive spells by all-rounder Parvez Rasool and pacer Ishwar Pandey as they reduced the home side to a precarious 128 for six at tea.
But the lower order batsmen Wayne Parnell and Simon Harmer rescued the home side with a fine 134-run stand for the unbroken seventh wicket.
The Indians seemed to have put their feet off the pedal in the last session which yielded 103 runs without any wicket.
The start of the match was delayed due to wet square at LC de Villiers Oval.
The visitors, who were aiming for a clean sweep in the two-match series after their emphatic innings win in the first match, looked set to skittle the South Africans for a paltry total after reducing them to 97 for six in 34 overs but failed to go for the kill after tea break.
Earlier, South Africa A's decision to bat first backfired as Indian pacers used the conditions well and bowled a stifling line and length to tie down the opposition batsmen.
Scorecard:
South Africa A: RR Hendricks c Saha b Pandey 2, D Elgar c Nadeem b Kaul 0, RR Rossouw c Pujara b Pandey 3, T Bavuma lbw b Parvez Rasool 42, JL Ontong c Vijay b Nadeem 28, TL Tsolekile c Nadeem b Parvez Rasool 13, WD Parnell not out 64, SR Harmer not out 68.
Extras: 11;
Total (for six wickets in 81.3 overs) 231
Fall of wickets: 1-2, 2-2, 3-11, 4-51, 5-97, 6-97.
Bowling: IC Pandey 16-3-49-2; S Kaul 14.3-4-43-1; STR Binny 8-4-13-0; S Nadeem 22-5-65-1; Parvez Rasool 18-6-39-2; AT Rayudu 3-0-14-0.
Image: Wayne Parnell of South Africa
Photograph: Duif du Toit / Gallo Images / Getty Images