Former India batsman Navjot Singh Sidhu says the onus is on the BCCI to come clean on Virender Sehwag's injury, after the dashing opener declared himself fit for the upcoming Indian Premier League.
"That onus is on the Board. It's the Board of Control for Cricket in India who has sold it to the sponsors, who are paying billions and billions for Sehwag, for Sachin Tendulkar, for Harbhajan Singh. So don't blame the cricketer alone," said Sidhu.
"I'll tell you why the Board cannot say… because it has taken money from the sponsors and that money is not a small bit of money, it's billions.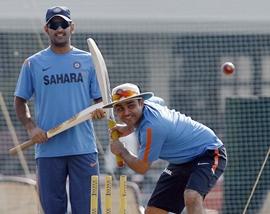 "Let's take an example: you have signed a movie with actor Akshay Kumar and later on you told me that in place of Akshay some Jagjit Singh from Connaught Place will act. No one knows who Jagjit Singh is; no one knows who the hero is. The sponsors have paid you the money because they want to see Akshay Kumar and he is the big draw… he is the magnet, so you can't take him away," explained Sidhu.
In the wake of the controversial rotational policy during the tour Down Under, Sehwag's name did not figure in the Asia Cup squad. That created a furore, as selection committee chief Krishnamachari Srikkanth failed to clear whether the opener was dropped or rested for the Asia Cup.
While the chief selector insisted that Sehwag was 'rested' due to a sore shoulder, the opener said he had back spasms and opted for rest as per the physio's advice.
Sidhu said it's a mutual symbiosis where both the BCCI and the cricketer benefit by playing in the IPL.
"It's a mutual symbiosis...a symbiosis where both parties benefit. The Board benefits because they get the mileage, they get the money and the cricketer benefits because… how many cricketers like Irfan or Yusuf Pathan will earn 10 crores in one-and-a-half months.
"It's a huge draw, something for the cricketer whose life is short not certain. So, it's between the Board and the cricketer," he said.
Sidhu said cricket has been divided into three products in today's world -- Twenty20, ODIs and Test.
"Every player has his strong point. Great players have looked ordinary in the shorter version of the game, their wings seem to be clipped and ordinary players have looked extra-ordinary in T20. It's basically a specialty. It's like honing your skills for a particular thing.
"IPL gives you a good opportunity to raise the level of your game. (Ravindra) Jadeja and others are the inventions of IPL. They sprung like the mushrooms because whole world is watching them in IPL," he said.