The India squad to play New Zealand in a five-ODI, two-Test tour is as dominant a force in world cricket as at any stage when retired batting great Sachin Tendulkar donned the pads, according to a report.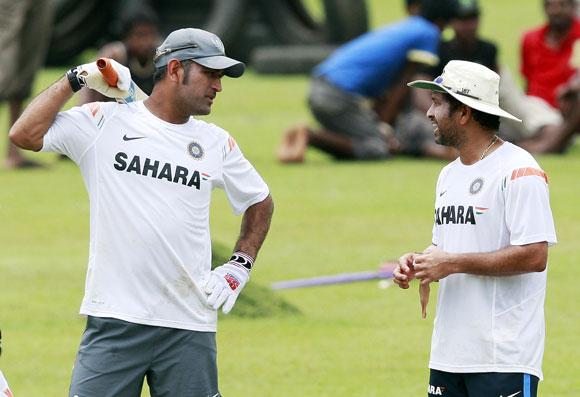 The absence of Tendulkar, who holds cricket records unlikely to ever be broken - 200 Test matches and 100 international hundreds, would cast a shadow on the touring squad, which would open their month-long visit in Napier on Sunday as the top-ranked ODI team, with the World Cup and Champions Trophy in the cabinet.
However, Stuff.co.nz reports that even though captain Mahendra Singh Dhoni does not quite carry the god-like status of Tendulkar, his influence on Indian cricket is arguably greater as he became the first player to captain India in 50 tests and has almost broken the mould of 'longevity and Indian cricket'.
The report mentioned that Dhoni, who is seemingly unaffected by media demands and expectation, has led India in 26 of their 34 ODIs last year, of which they won 22, along with eight Tests and has also not wearied by the pressure of crouching behind the stumps.
Although India does not have the big batting names of past visits, but the likes of Shikhar Dhawan, Virat Kohli, Suresh Raina and Dhoni would not need a second chance to threaten 400 if the pitches are docile and the bowling a touch wayward, the report added.
Clarke reiterates Oz's desire to regain No.1 mantle in ODI format
Meanwhile, Australian captain Michael Clarke has reiterated his team's desire to regain the mantle of world's number one limited-overs team and ruled out any prospect of complacency in the one-day series against England.
Australia is ranked second in the ICC one-day rankings behind world No. 1 India, with England ranked third and should Australia win this series and New Zealand win its five-match home series against India, Australia could go No.1.
According to News.com.au, Clarke said that as a Test team, they had a lot to play for during the Ashes as they were ranked fifth at the time and wanted to get back to No.1, adding that the same goes for the one-day unit, for which they cannot afford to take their foot off the pedal and be complacent in the ODI series.
Meanwhile, Clarke said expectations of a slightly two-paced pitch had probably contributed to James Pattinson being overlooked for the first ODI, although he expected the paceman 'to play a big part in this series'.
Clarke agreed that Australia would go into today's series opener with a psychological edge over England, but suggested that was because of the 2-1 win in the ODI series in England last September.