The top order fired in unison after Ishant Sharma's fiery spell with the ball to put India in control against New Zealand on day two of the third and final Test at the Vidarbha Cricket Association stadium in Jamtha, Nagpur on Sunday.
At stumps on the second day, India were sitting pretty on 292 for two in 82 overs to take a 99-run lead in reply to New Zealand's first innings score of 193.
India's two senior most batsmen were the crease when play was called off early due to bad light. Rahul Dravid was unbeaten on a patient 69 from 167 balls (8 fours) and Sachin Tendulkar on 57, inclusive of seven boundaries in his 126-ball knock. The duo took their team at the crease as they put on an unbroken stand of 100 runs in 37.5 overs to build India's total.
Virender Sehwag had given India a flying start as he slammed 74 from 73 deliveries with the help of 12 fours and a six, before he was caught and bowled by Daniel Vettori. Gambhir played a fine innings of 78 from 127 balls, inclusive of 12 fours, before he guided a wide delivery from Southee into the hands of Ross Taylor in the slips.
The two openers provided India with the perfect platform as they put on 113 runs in 139 balls for the opening wicket, while the second wicket pairing between Gambhir and Dravid consolidated that start by putting on 79 runs from 126 balls.
Earlier, India pacer Ishant Sharma took four wickets to help bowl out New Zealand for 193 in 66.3 overs. The lanky pacer made a brilliant comeback into the Indian team as he took four for 43 in 18 overs, while Pragyan Ojha claimed three for 57.
Tim Southee played some big shots towards the end to score vital 38 runs, while the injured Brendon McCullum scored 40 (84 balls). Jesse Ryder, struggling with a calf injury, waged a lone battle as he scored 59 from 113 balls before he was caught in the covers by Suresh Raina off Harbhajan Singh.
The first two Tests in Ahmedabad and Hyderabad ended in high scoring draws.
Morning session: (134 runs, 29.3 overs, 3 wickets)
Resuming on, 148 for seven in 56 overs, New Zealand never really threatened to get the scoreboard moving and were cleaned up within the first 11 overs of the day.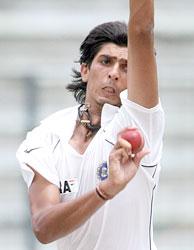 Sreesanth and Ishant start off proceedings and the latter nearly struck but McCullum's thick edge flew wide off a diving Virender Sehwag at gully for a boundary.
But McCullum perished off the next delivery attempting another forceful shot through the off-side and was caught behind for 40 to give Ishant his third wicket.
Debutant Andy McKay got his first boundary in Test cricket when he drove Ishant through point. But the pacer got revenge when he cleaned up McKay with a fast incoming delivery to bowl him for five.
With just one wicket in hand, Tim Southee decided to attack the bowlers. Harbhajan Singh suffered as the youngster slammed him for two sixes and a boundary through the leg-side for 17 runs in the 65th over.
Southee then repeated the dose on Ojha as he charged down the wicket and lofted him over long-on for another huge six.
But Ojha finally had his man when Southee tried another big shot but ending up holing to Sehwag on the long-on boundary after a useful knock of 38 from 68 balls, laced with three sixes and two fours.
Chris Martin finished unbeaten on two, his batting average in Tests, as New Zealand were bowled out for 193 in 66.3 overs.
Ishant, not considered for the first two matches of the series, troubled the Kiwis with his bounce and movement claiming four for 43 in 18 overs. Sreesanth also made good use of the new ball for figures of two for 28, while Ojha's persistence paid off again as he took three for 57.
(India innings)
New Zealand looked to pepper Sehwag with short deliveries, but the plan backfired.
Chris Martin struck Sehwag on the gloves with a fast rising delivery but the opener got off the mark in style when he hit Southee for a boundary through covers in the next over.
Martin kept peppering Sehwag with short deliveries before the batsman lost his patience and pulled him for back to back boundaries, in the third over.
In the next over, Gautam Gambhir helped himself to a couple of boundaries through the leg-side as pacer Southee drifted on his pads.
Sehwag played the upper cut to a short delivery outside the off-stump from Martin for his fifth boundary and repeated the dose on Southee in the very next over.
Gambhir guided a full delivery from debutant Andy McKay through the gap between the slips and gully for a boundary to take India past the 50-run mark, in the ninth over.
Sehwag needed no second invitation when Daniel Vettori came into the attack. Sehwag jumped down the wicket and slammed the spinner over long-on for a huge six, his 84th in Tests that put him level on fourth position with Viv Richards on the list of most sixes.
Gambhir (19) got a reprieve when Ryder at short leg failed to hold on to a difficult as the left-hander looked to play Vettori on the leg side.
Debutant McKay bowled a good spell without much luck, while Gambhir got confident with every passing over at the wicket.
At lunch on the second day, India were sitting pretty at 89 for no loss in 19 overs, with Sehwag on 55 from as many balls, laced with nine fours and a six, while Gambhir was unbeaten on a steady 31 from 59 balls (4 fours).
New Zealand continued to suffer as they not only failed to pick up a wicket but also went for plenty of runs with the new ball.
Post lunch session: (116 runs, 29 overs, 2 wickets)
Sehwag continued in the same fashion after the break as he started with back to back boundaries off Vettori in the first over of the session. In the next over, Sehwag got another four through the vacant thirdman region as he guided a wide delivery from Martin past the slips as India crossed the 100-run mark in the 21st over.
Even Gambhir seemed to have got his eye in as he pulled a short delivery from Martin through midwicket for his first four of the session.
Against the run of play, New Zealand captain Vettori struck with the big wicket of Sehwag, for the third time in the series. The right-hander tried to loft Vettori over the off-side but got it on the bottom of the bat and ended up lofting a simple catch back to the bowler.
Sehwag had once given India the impetus with a cracking knock of 74 from 73 balls, having hit 12 fours and a six, adding 113 runs in 139 balls for the opening wicket with Gambhir.
That wicket didn't bog India down as they continued to keep the scoreboard going. Martin gifted him a full toss which Gambhir promptly despatched through midwicket for his seventh four.
Rahul Dravid got his first boundary when he cut a short, wide delivery from Vettori through the off-side, to take India to 136 for one in 30 overs.
Gambhir brought up his half-century in some style off 90 balls when he danced down the wicket to Vettori and lofted him over mid-on for a four. The left-hander ensured that the boundaries kept coming after Sehwag's departure as he cut a short delivery from Vettori for another four, in his next over.
India went after part-timer Kane Williamson straightaway with both Dravid and Gambhir hitting a boundary each through the covers, in his first over.
However, Southee provided New Zealand some relief with the wicket of Gambhir. The left-hander hit one straight to Taylor positioned at the wide slip region after a fine knock of 78, inclusive of 12 boundaries in his 127-ball knock.
Sachin Tendulkar, looking for his 50th century in international cricket, drove Southee through the cover region to get off the mark with a boundary. In the pacer's next over, Dravid drove a full delivery down the ground to bag another boundary.
At tea on the second day, India were sitting pretty on 205 for two in 48 overs, to take a lead of 12 runs.
Dravid looked in good touch as he hit a brisk 35 from 72 balls, while Tendulkar was off to a confident start on six from 16 balls.
Once again, Vettori shouldered the majority of the bowling burden as he took one for 66 in 17 overs, while Southee picked up the other wicket, but went for 35 runs in his seven overs. Debutant left-arm pacer McKay got off to a good start in Test cricket, as he bowled a good probing spell of 12 runs giving away just 29 runs.
Post tea session: (87 runs, 34 overs)
New Zealand looked to stop the flow of boundaries in the final session as they stitched together a few tight overs.
Dravid, finally, broke the shackles when he flicked Vettori through midwicket for a boundary, in the 52nd over. Tendulkar also got his first boundary of the session off Vettori when he hit him down the ground in his next over.
But runs were pretty hard to come by as both Tendulkar and Dravid looked to play out the overs and stay out in the middle to consolidate India's advantage.
Just 22 runs came in the 12 overs after the tea break as India reached 227 for two in 60 overs.
Dravid brought the fans back to life as he cut a wide delivery from McKay through point for a four, the first after a gap of nearly seven overs, to move to 49. Tendulkar also picked up the tempo as he hit McKay for back to back boundaries in his next over to raise the 50-run stand in 118 balls for the third wicket.
In the next over Dravid brought up his half-century from 115 balls with a single on the point region off Vettori, in the 65th over.
The two senior pros looked to build the Indian total without taking any risks, waiting for the loose deliveries. Dravid didn't let Vettori settle down as he danced down the wicket and hit him over mid-on for a four and Tendulkar clipped Martin through midwicket for another boundary.
It was spin at both ends as Martin Guptill came in to bowl some off-breaks with Vettori continuing to toil from the other end.
Vettori continued to struggle with his length and kept dropping short as Dravid profited yet and hit him for a boundary through covers. Tendulkar pulled a short delivery from Guptill through square leg for yet another four in the next over as India progressed to 274 for two in 74 overs.
Tendulkar completed his half-century from 117 balls as he got three runs in the covers off Guptill, in the 80th over.
As expected, New Zealand took the second new ball after 80 overs hoping to make a few breakthroughs before stumps on day two.
But with the light fading, the umpires called off play early with fast bowlers bowling from both ends.
At stumps on Day 2, India were 292 for two in 82 overs for a lead of 99 runs with Dravid on 69 (167 balls) and Tendulkar on 57 (126 balls).
Vettori bowled the majority of the overs, but he was easily tackled by the Indian batsmen as he took one for 101 in 30 overs, while Southee claimed one for 41 in 13 overs.
India would be hoping to stretch their advantage on the third day, while also hoping Tendulkar can get another century, his 50th in Test cricket.