The Board of Control for Cricket in India president N Srinivasan on Tuesday rubbished Lalit Modi's claim that the 2009 auction of Andrew Flintoff was rigged and said that the former Commissioner is only seeking "publicity" by making such baseless statements.
- Flintoff's auction in 2009 was rigged: Modi
"I haven't watched the television programme where he (Modi) has said all this. All I can state is that, there is absolutely no substance or truth in what he is saying," Srinivasan said.
- Wish Yuvraj Singh a speedy recovery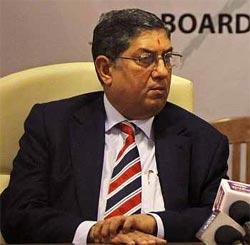 Modi in an interview to CNN-IBN said that he was "arm-twisted to allow Andrew Flintoff to go to CSK" during the 2009 Indian Premier League Players' Auction.
Srinivasan on his part said, "He (Modi) is talking about 2009 auctions and this is 2012. If what he is saying is true, then why didn't he speak out earlier?"
When questioned that whether his silence on many issues has sent wrong signals, he replied, "If you say so, then you must be knowing that I have spoken to the media and expressed my views on Sahara issue. I am an honest man. I don't seek any publicity and that's why I maintain a dignified silence."