New Zealand won the first Twenty20 international match against West Indies by 81 runs at EdenPark on Saturday to go 1-0 up in the two-match series.
An impressive performance with the ball, with Tim Southee setting the tone and Adam Milne producing a spectacular pace, led New Zealand to restrain West Indies at 108 for the loss of eight wickets in the game.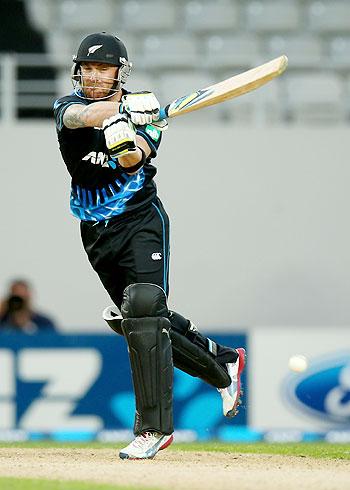 Host bowlers James Neesham and Nathan McCullum were the pick of the bowlers with figures of 3-16 and 4-24 respectively.
Earlier, captain Brendon McCullum's half-century and Luke Ronchi's unbeaten 48 took New Zealand to 189 for five in the game.
The second T20 between the two nations will be played at Wellington on January 15.
Scoreboard
New Zealand
M. Guptill c Charles b Best 25
J. Ryder c Charles b Miller 22
B. McCullum not out 60
R. Taylor c Bravo b Miller 5
C. Munro c Fletcher b Best 22
C. Anderson c Powell b Best 0
L. Ronchi not out 48
Extras: (b5, w1, nb1) 7
Total: (5 wickets; 20 overs) 189
Fall of wickets: 1-38, 2-56, 3-66, 4-103, 5-104
Bowling: Badree 4-0-25-0, Best 4-0-40-3, Narine 4-0-46-0, Miller 3-0-26-2, Bravo 4-0-24-0, Russell 1-0-23-0.
West Indies:
J. Charles c Ronchi b Neesham 16
L. Simmons c Ronchi b Milne 0
A. Fletcher c Ryder b N. McCullum 23
K. Powell c Guptill b N. McCullum 12
D. Bravo c Ryder b N. McCullum 10
A. Russell c Guptill b N. McCullum 0
C. Walton c Munro b Neesham 9
N. Miller not out 15
S. Narine c Milne b Neesham 0
S. Badree not out 14
Extras (LB-2, W-7) 9
Total (8 wickets; 20 overs) 108
Fall of wickets: 1-11, 2-31, 3-53, 4-59, 5-64, 6-75, 7-77, 8-77.
Bowling: Southee 4-0-36-0, Milne 4-0-15-1, Neesham 4-0-16-3, N. McCullum 4-0-24-4, Anderson 4-0-15-0.
Image: Brendon McCullum plays a shot against West Indies during the first T20 at Eden Park in Auckland on Saturday
Photograph: Phil Walter/Getty Images