Sri Lankan off-spinner Muttiah Muralitharan will retire from international cricket after the Feb. 19-April 2 World Cup in India, Sri Lanka and Bangladesh.
Muralitharan, the world's leading wicket-taker in Tests and One-day internationals, had retired from the five-day format last July against India, after reaching exactly 800 test wickets.
"This World Cup will be my last outing," Muralitharan told reporters on the sidelines of a training session in Colombo.
"I am retiring totally from international cricket thereafter."
The Sri Lankan, who played for the Chennai Super Kings franchise in the first three editions of the Indian Premier League (IPL), will continue to play Twenty20 cricket.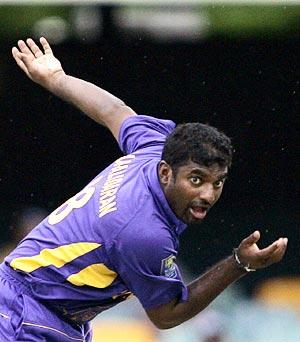 "My time is up. I have signed up to play for two years in the IPL. I am also looking at similar work in New Zealand and perhaps England," added Muralitharan, who has taken 517 wickets in 339 One-dayers.
"This is my fourth World Cup. We won in 1996 and came close in 2007 by reaching the final. This would be a memorable one for me and for Sri Lankan fans."
Muralitharan ruled out any plans of coaching stint in the near future.
"There are plenty of coaches and lots of talented people out there," he said.
"I will take things as they come. For the moment, no coaching stints."
The spinner holds the record for maximum number of wickets in both Tests (800) and One-dayers (517).
Muralitharan, however, insisted that right now he is just focusing on the cricketing extravaganza which is scheduled to commence on February 19.
Sri Lanka are considered to be potential title contenders and their chances to fetch the second World Cup will receive the necessary boost in the light that they have traditionally been good in their own backyard.
The country is supposed to host 12 World Cup games, including three at a new 22,000-seater stadium in Muralitharan's home district of Kandy.
The other matches will be held at the renovated Premadasa Stadium in Colombo and a new cricket facility in Hambantota in the southeren part of the island nation, though the venue has already breached the International Cricket Council's (ICC) deadline.