After claiming innocence for a long time, banned Pakistan pacer Mohammad Aamir has reportedly confessed to his involvement in the spot-fixing scandal that shook the core of international cricket last year.
According to The News International, Aamir "submitted his written confession during a hearing at the Southwark Crown Court in London."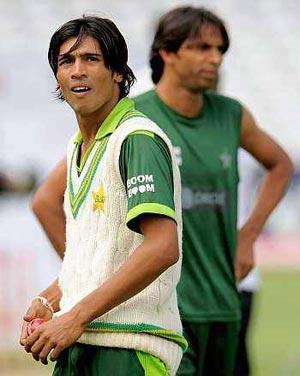 The 19-year-old was found guilty of spot-fixing and banned along with the then Test captain Salman Butt and pacer Mohammad Asif after it came to light that the trio conspired to bowl deliberate no balls during the Lord's Test against England on the instructions of a Britain-based bookmaker Mazhar Majeed.
The daily reported that Majeed has "also submitted his written confession at the London court."
"The News has learnt through reliable sources that in his written confession, Aamir has claimed that he was forced to deliver the no-balls in the Lord's Test. Sources said that Aamir has tried to dispel the impression that he bowled the no-balls in return of money," the newspaper reported.
"However, it is not clear whether Aamir has accused Salman Butt, who was Pakistan's captain at that time or the player has blamed any external factors for the no-balls he bowled during the Test," the daily said.
"Sources said that Aamir submitted his confession in the court through his British lawyer Gareth Pierce's legal firm Birnberg Peirce and Partners."
A court hearing regarding the spot-fixing case is set to take place on October 4 in London.
The daily said that Aamir has been told to plead guilty by his lawyers as they believe it would help him get a lenient view from the judges because of his young age.
Aamir was banned for five years, Butt for 10 years while Asif was handed a seven-year ban.
Aamir, in fact, ran into trouble while serving the ban a few weeks back when he was cautioned by the ICC for turning up for Surrey side Addington in a village county match in England.