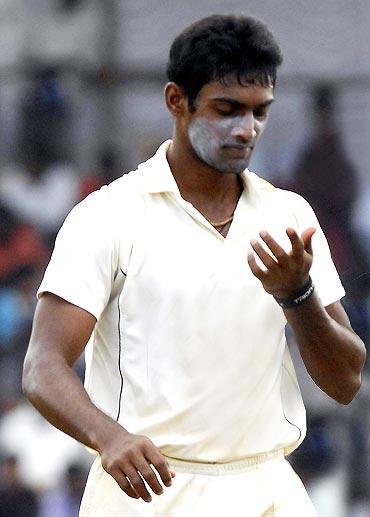 Mithun Abhimanyu's family is elated. In all the excitement of the Karnataka fast bowler being selected to the Indian squad for the first Test against South Africa, they can barely speak.
"What more can we ask God for?" his father Abhimanyu M, who runs a gymnasium in Bangalore, says.
"Sport is something that runs in the family. I was a wrestler and bodybuilder and when Mithun showed interest in sports, I never discouraged him."
On Thursday, Mithun was rewarded for outstanding bowling in the domestic season, and with Bengal wicketkeeper Wriddhiman Saha and Tamil Nadu batsman S Badrinath, named in the 15-man Indian squad for the first Test against the Proteas, beginning in Nagpur on February 6.
Abhimanyu informs that Mithun was interested in sports since his school days, but it was only at the age of 15 that he showed keen interest in cricket.
"He never took too much help from us. He frequented cricket clubs and started playing the game. What I liked about my son is that despite such interest for the game, he never neglected his studies and always was a good student.
"He always used to say that his dream is to play for the nation. Today that dream has come true. I am eager to speak to my son, but have been unable to do so all day since he is busy in a match [Duleep Trophy match in Indore]."
Mithun's sister Chaitra is also excited and lost for words. Sounding extremely emotional, she says her brother has done her proud.
"I am sure that he will do well for his country. This is a wonderful opportunity that he has been given and he will live up to it," she declares.
Her other brother Hemesh can't believe Mithun is selected to play for India.
"This is the best news that I have ever heard. Everyone wants to play for the country at some point of time. What more can Mithun ask for? I would not say it is luck alone; he is a very hard-working boy and deserves this.
"When I used to watch him play at the YMCA, the Vultures Club or, for that matter, even at the KSCA in Bangalore, I always knew that he had something special in him that would take him to the highest level one day. Apart from Mithun's hard work, I would say, his father is his biggest driving force; he stood by him at all times. Not once did our father discourage him."
Hemesh went on to credit former India pacer Javagal Srinath for Mithun's rise.
"Our entire family is extremely grateful to Srinath, who shaped his career. Mithun always had it in him, but, if not for Srinath's guidance and support, he would have never come this far.
"We would also like to thank Rahul Dravid and Anil Kumble who have been pillars of support for Mithun."
Photograph: Harish Kotian