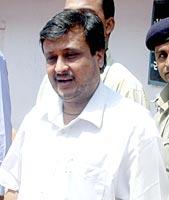 The Ahmedabad police on Saturday said the Mumbai-based bookie Shobhan Mehta had ties with former India players Mohammed Azharuddin, Ajay Jadeja and Nayan Mongia.
Mehta, who is in Gujarat police's custody, told interrogators that Australia's Mark Waugh and former South Africa skipper Hansie Cronje, who died in 2001 in a plane crash, also gave tips to bookies.
Revealing details of Mehta's interrogation, an additional police commissioner of Ahmedabad crime branch also revealed the names of other bookies like Mark Peter from Australia and England bookie code-named +Black 0365+ at a press conference.
Mehta's cricket betting network was spread across countries like Pakistan, England and Australia, Additional Commissioner of Police (Crime Branch) D G Vanjara said.
"The interrogation of Mehta, who was brought from Mumbai on a transfer warrant with regard to a cricket betting case, has thrown up certain interesting facts," Vanjara said.
A probe carried out by the Central Bureau of Investigation in 2000 into allegations of match fixing had found Azharuddin and Jadeja guilty, while Mongia was left scot-free.
The Board of Control for Cricket in India had then placed Azharuddin under a life ban and Jadeja was handed a five-year ban.
Jadeja captained the Delhi cricket team last season.
Mehta has named the same matches or incidents that were under scrutiny in the 2000 probe.
When asked if the name of any current player cropped up during the interrogation, Vanjara replied, "No names of any current player or politicians shielding the bookies had cropped up during the interrogation of Mehta."
He said Mehta had not parted any information in connection with the recent India-Pakistan one-dayer played at the Motera stadium where the match was delayed for about 30 minutes giving grist to the rumour mill of possible huge betting.
The official said Mehta also did not disclose anything regarding his alleged involvement with a Gujarat MP.
Vanjara claimed that Mehta also had links with Mumbai-based gangsters like Arun Gawli, Arun Naik and Chotta Shakeel. "Members of these gangs also used to place bets through him (Mehta)," he added.
The official also said Mehta's betting syndicate was spread in Indian cities where international cricket was regularly played like Delhi, Jaipur, Kolkata, Chennai, Mumbai, Bangalore, Hyderabad and others.
The match-fixing scandal: Complete Coverage
Photograph: Mayur Bhatt/ Saab Pictures