Captain Brendon McCullum led the way with the bat while his bowlers produced a disciplined display to beat England by 55 runs in the second Twenty20 international at Seddon Park on Tuesday and level the three-match series.
McCullum had anchored New Zealand's innings to power them to 192 for six with 74 runs from 38 balls as he plundered England's attack for six boundaries and five sixes.
Mitchell McClenaghan, who took two wickets in successive balls in the second over, Trent Boult and Ian Butler then put the power-packed England batting line-up under constant pressure with aggressive pace bowling.
Butler finished with two for nine from four overs, while McClenaghan had two for 24. James Franklin mopped up the tail to finish with 4-15 off 3.3 overs.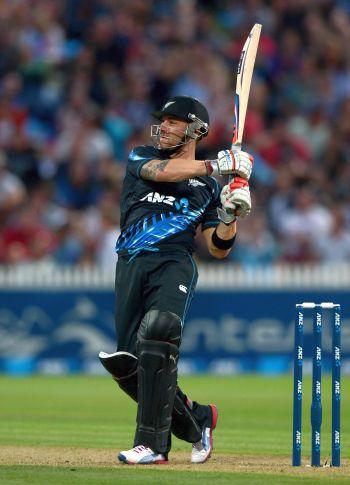 Jos Buttler produced a cameo of 54 but received little help as England were dismissed for 137 in 19.3 overs.
England had won the first match at Eden Park in Auckland on Saturday by 40 runs, which was their sixth successive victory over New Zealand in the shortest format of the game and McCullum said he was pleased his side had put that behind them.
"It was good. The other night was disappointing and England blew us off the park," McCullum said in a televised interview.
"The boys are very happy with the performance (and) ... to bounce back from the other day. We knew we were short (on Saturday) and today was a really good performance from us."
Unlike Auckland, openers Hamish Rutherford and Martin Guptill kept the run rate above nine before Rutherford feathered a catch to Buttler off Luke Wright for 40 to leave the hosts well placed at 75-1 in the ninth over.
The run rate however dropped markedly after Rutherford fell as England's bowlers varied their length and pace with Wright and Jade Dernbach adept at disguising their slower deliveries.
Guptill (47), Ross Taylor (four) and Colin Munro (seven) all fell when they failed to pick slower deliveries and lofted mistimed shots into the deep, while Grant Elliott (four) was bowled by a Dernbach delivery that was 30kph slower than the previous one.
McCullum, however, took 22 off the 19th over from Stuart Broad, which included three sixes, before he became Dernbach's third wicket on the penultimate delivery of the innings.
The series decider will be in Wellington on Friday.
"It was obviously a disappointing performance throughout but Twenty20 cricket can be like that," Broad said.
"You can be fantastic one day and then things don't go your way the next day. So credit goes to New Zealand they outperformed us in everything."
Scorecard:
New Zealand Innings
M. Guptill c Hales b Tredwell 47
H. Rutherford c Buttler b Wright 40
B. McCullum c Lumb b Dernbach 74
R. Taylor c Bairstow b Wright 4
C. Munro c Bairstow b Dernbach 7
G. Elliott b Dernbach 4
J. Franklin not out 6
N. McCullum not out 0
Extras (b-1, lb-3, w-6) 10
Total (for six wickets, 20 overs) 192
Fall of wickets: 1-75, 2-105, 3-124, 4-139, 5-154, 6-188
Bowling: Tredwell 2-0-20-1, Broad 4-0-53-0, Finn 4-0-33-0, Dernbach 4-0-38-3 (w-2), Wright 4-0-24-2, Patel 2-0-20-0
England Innings
M. Lumb b N. McCullum 17
A. Hales b McClenaghan 5
L. Wright c Guptill b McClenaghan 0
J. Bairstow c McClenaghan b Butler 8
E. Morgan c Munro b Butler 13
J. Buttler c Taylor b Franklin 54
S. Patel run out 6
S. Broad c Guptill b Franklin 1
J. Tredwell b Franklin 22
S. Finn not out 5
J. Dernbach c Butler b Franklin 0
Extras (lb-3 w-3) 6
Total (all out, 19.3 overs) 137
Fall of wickets: 1-9, 2-9, 3-24, 4-43, 5-47, 6-62, 7-80, 8-115, 9-137
Bowling: Boult 4-0-40-0, McClenaghan 4-0-24-2, Butler 4-0-9-2, N. McCullum 3-0-26-1, Franklin 3.3-0-15-4, Elliott 1-0-20-0.
Photograph: Gareth Copley/Getty Images