Manoj Tiwary stole the limelight with a sterling knock of 93 for India 'A' on the opening day of the tour game against the touring England team in Mumbai on Tuesday and immediately declared he is ready for Test cricket.
Without doubt, he made an impression on the new selection panel that, barring chairman Sandeep Patil, gathered to watch the proceedings. The Bengal captain missed out on a deserving century, but did enough to show he is ready for Test cricket in his 202-minute stay at the wicket, during which he faced 150 balls and hit 11 fours.
For Tiwary, this is the closest he can get as far as making it to the Test side is concerned. If he follows this knock with another big innings for Bengal in the Ranji Trophy, against Rajasthan starting November 2, it will be hard for the selectors to deny him his due when they pick the squad on November 5.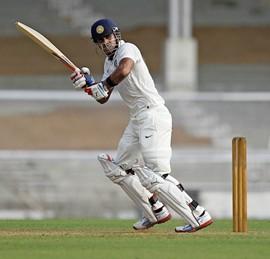 "There is a competition going on for the No. 6 slot, but it is up to the selectors now to decide. I tried my level best to do well for the team. Let's see what happens, because there is still a long way to go. But I would say that I am ready for Test cricket," he said.
Tiwary is a regular member of the Indian limited-overs' squad, but got only few opportunities in the playing eleven. Since making his India debut in 2008, he has played just eight ODIs and three T20Is despite being one of the most consistent batsmen in domestic cricket.
"Basically, I am a very emotional person. I do watch a lot of inspirational videos on Youtube to get motivated. I have seen Derek Redmond's run and that is the only one which catches my eyes and gets me pumped up.
"The best thing which I did is that I worked hard in the nets; I worked on my bowling as well, because it is not easy to get into the Indian team nowadays as there is so much of competition. I want to contribute in all the three departments. Today the batting clicked and, hopefully, if the bowling comes up too," the 26-year-old said.
 Tiwary said he is unfazed at not being given enough opportunities with the Indian team and tries to learn by just being a part of the dressing room.
 "The self-belief which I have… I never let my confidence go down whether I score a zero or a hundred. I know that provided an opportunity I will definitely score runs, because having travelled with the Indian team and not playing, there are a lot of things to learn from the outside. If you travel with the team and practice with quality bowlers like we have in the current Indian team then you feel confident," the right-hander said.
Despite competing with Yuvraj for a Test place, Tiwary said he takes a lot of inspiration from the left-hander for his amazing comeback to the sport.
"In my list of inspiration people he is the latest one to be there, because it is not easy for any individual to come up from cancer and to do well, which is unbelievable!"
Photograph: Danish Siddiqui/Reuters