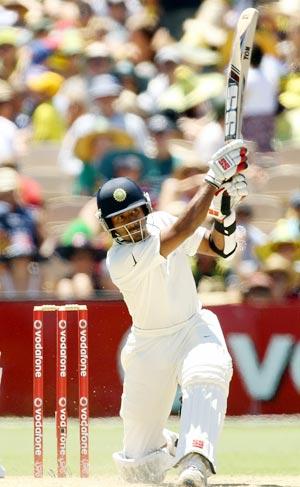 Wriddhiman Saha's century went in vain as Maharashtra crushed Bengal by a convincing margin of 10 wickets to storm into the final of the Ranji Trophy, in Indore, on Monday.

Maharashtra last played in the Ranji Trophy final in the 1992-93 season where they lost to Punjab. In the summit clash, they will take on the winner of the second semi-final between Karnataka and Punjab, in the final, in Hyderabad, from January 29-February 2.

After a batting collapse in the first innings, Bengal put up a relatively better show in the second essay courtesy of Wriddhiman's unbeaten 108 as they scored 348 managing to avert the ignominy of innings defeat, in the first semi-final.

Harshad Khadiwale knocked off the required eight runs in two overs on the third day as Maharashtra continued their dream run in the national championship, making it to the final from Group C.

In the quarter-finals, Maharashtra had upset defending champions Mumbai by eight wickets.

Left-arm seamer Samad Fallah (3/110) claimed three in the second innings to complete a match-haul of 10 wickets, while Dominic Joseph (3/80) and Anupam Sanklecha (3/84) also shared the spoils.

On the third day, the question was how long Maharashtra would take to dismiss Bengal for the second time rather than any imminent chance of a miracle.

The match went along the expected lined despite Saha's impressive effort that came off 146 balls. Saha hit 15 fours and a couple of sixes off left-arm spinner Akshay Darekar as he completed his eighth first-class century in some style with a straight boundary off Joseph.

Saha was able to complete his century with some good effort from the tailenders Sourav Sarkar (35), Ashoke Dinda (25) and Shib Shankar Paul (13). The eighth, ninth and 10th wicket partnerships yielded 45, 62 and 53 runs, respectively to delay the inevitable.

However, it was the same old story from the other end as none of the batsmen except for left-hander Sudip Chatterjee (49) contributed enough.

It has been a dream run from Maharashtra and a lot of credit goes to coach Surendra Bhave, who took over from Englishman Dermot Reeve after they had got relegated to Group C last season.

Maharashtra, who elected to field, made best use of the early help on the opening day as they shot out Bengal for a paltry 114 in their first innings with Fallah claiming seven for 58.

In reply, Maharashtra piled up a mammoth 455 courtesy of a sparkling innings of 168 from Sangram Atitkar, who hit 29 boundaries in his 228-ball knock, while Ankit Bawne made 89.
Scoreboard:

Bengal 1st Innings: 114

Maharashtra 1st Innings: 455

Bengal 2nd innings (Overnight 16/1)
K Ghosh c Khurana b Fallah 9
A Das c Darekar b Sanklecha 34
A Easwaran lbw Sanklecha 6
S Chatterjee c Motwani b Fallah 49
W Saha not out 108
LR Shukla b Joseph 10
S Das c Motwani b Sanklecha 12
S Lahiri lbw Joseph 18
S Sarkar c Joseph b Fallah 35
A Dinda c & b Joseph 25
SS Paul c Joseph b Darekar 13

Extras (b: 14, lb: 5, nb: 10) 29

Total (all out in 77.3 overs) 348

Fall of wickets: 1-16, 2-34, 3-86,4-128, 5-145, 6-163, 7-188, 8-233, 9-295.

Bowling: Fallah 27-4-110-3, Sanklecha 19-3-84-3, Joseph 20-5-80-3, Khadiwale 4-0-11-0, Darekar 7.3-0-44-1.

Maharashtra 2nd innings (Target: 8 runs)
H Khadiwale not out 8
C Khurana not out 0

Total (for no loss in two overs) 8

Bowling: Sarkar 1-0-3-0, Sandipan 1-0-5-0.
Image: Wriddhiman Saha
Photograph: Hamish Blair/Getty Images