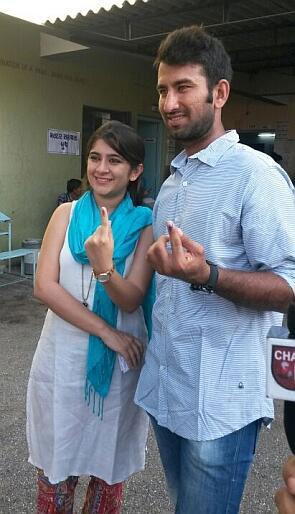 India's star cricketer Cheteshwar Pujara specially flew down from Abu Dhabi, where was part of the Kings XI Punjab team in the ongoing Indian Premier League, to cast his vote in Rajkot on Wednesday.
Accompanied by his wife Puja, Pujara, who is also the Election Commission's brand ambassador in Gujarat, arrived at the city's Sahjanand School by his car. The couple cast their votes at around 7.45 am.
This is the first time that Pujara cast his vote in an election.
He had missed opportunities in the past because of his tight cricketing schedule, invariably be away, either playing or travelling.
"We had decided to reach as early as possible at the polling booth and cast our votes," a smiling Pujara told Rediff.com.
"I had decided not to miss voting this time around, not just because I am the Election Commission's brand ambassador, but because I really wanted to experience it.
Luckily, there was no scheduled match for my team in the IPL on this particular day, which made it quite easy for me to come to Rajkot."
The stylish right-hand batsman added that "it was a very special feeling and experience" to vote for the very first time in his life.
"India is the world's largest democracy and we all must vote without fail as far as possible," he said.
"I was really happy that my wife, too, was with me when I cast my vote."
He will now fly to Mumbai and rejoin his IPL team for the rest of the matches in the India leg of the cash-rich Twenty20 tournament.
Image: Cheteshwar Pujara with wife Puja
Photograph: Haresh Pandya