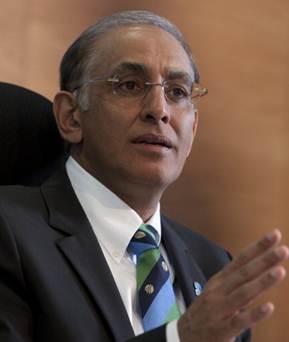 Cricket South Africa CEO Haroon Lorgat says that stepping aside from talks with the Board of Control for Cricket in India was solely his decision, as he did not want to be the person to hold up or have the upcoming bilateral series between the two countries cancelled.
A week ago, the BCCI gave its consent to the long-awaited tour of South Africa after CSA withdrew Lorgat from its dealings with India and ICC, until an investigation into controversial comments made by the ICC's former legal head David Becker, and Lorgat's alleged role in it, is over.
However, Lorgat told Eyewitness News on Sunday that it was solely his decision to step aside.
"I offered the board to step aside until the Indian tour was confirmed and until the allegation against me was cleared," Lorgat said after his return from Dubai.
"I've got nothing to fear and I didn't want to be the person to hold up or have the tour cancelled. I was happy to step aside so the tour could continue as no one is bigger than the tour," he added.
Despite his wings being clipped, Lorgat said there are many areas where he could make a difference and is looking forward to those responsibilities.
"I don't believe my position is untenable because it's a workable solution as there is plenty to be done at CSA. There is a development programme that must be revisited and transformation issues to be dealt with. I look forward to getting my focus on areas I know I can make a difference in."
The BCCI had earlier rejected the original itinerary for the tour, released by CSA, that had three Tests, seven ODIs and two T20s.
There was uncertainty about the future of the tour as relations between the two boards was put to test. However, following a series of meetings, the tour was eventually announced though it was reduced to two Tests and three ODIs.
"I feel for my staff because they've endured tough times and they don't deserve this. It's unfortunate the board had little choice in this. From a personal perspective it wasn't easy, but I know the truth always prevails."
Image: Haroon Lorgat
Photograph: Jack Dabaghian/Getty Images for ICC