The independent adjudicator appointed by the ICC has cleared Cricket South Africa CEO Haroon Lorgat of alleged involvement in the FTP manipulation charges levelled against the BCCI by his one-time legal adviser at the world body.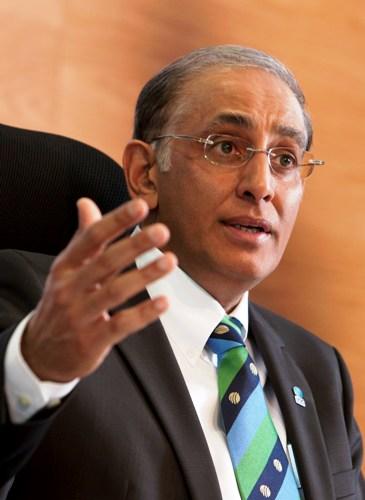 David Becker, who was the ICC legal adviser throughout Lorgat's tenure as CEO of the world body, had last year issued a statement suggesting that the BCCI's flouting of the FTP could have legal implications and that it was "improper" to allow a member body to "blatantly disregard an ICC
resolution".
In his October 2013 statement, Becker, also a former legal adviser of Cricket South Africa, had said that he had resigned from his ICC post because of what he considered "questionable governance" at the ICC and listed three examples, all relating to the "dominance of BCCI President N
Srinivasan".
Lorgat was accused by the BCCI of having the knowledge of Becker's statement and, in fact, of its preparation, prompting the ICC to commission an inquiry into his role in that statement.
The controversy had also threatened to derail India's tour of South Africa December last. BCCI had agreed to a shortened tour only after the CSA agreed to bar Lorgat from dealing with matters related to India and from attending ICC Executive Meetings as CSA representative.
The adjudicator, in a joint statement issued by the ICC and CSA, said that there was "no evidence to support the allegations made against Lorgat".
As a result, any restrictions on Lorgat's ability to act as CSA chief executive were removed. He can now resume acting as CSA's representative on the ICC Chief Executive's Committee and deal with affairs involving the BCCI.
"An independent Adjudicator, appointed by the ICC to look into the content and distribution of media comments made about ICC Board by David Becker, who at that time was acting as a legal consultant to CSA in respect of their ongoing dispute over FTP Schedule, and the subsequent attempts to have them withdrawn, and, in particular, role of Haroon Lorgat, CEO of CSA, in these matters has found no evidence to support the
allegations made against Lorgat," the statement said.
The independent adjudicator also exonerated Lorgat of the charge that he had allegedly tried to bribe and threaten journalists.
Image: Haroon Lorgat
Photo: Getty Images