Tearaway fast bowler Brett Lee kicked off a fresh innings by tying the knot with girlfriend Liz Kemp in Sydney.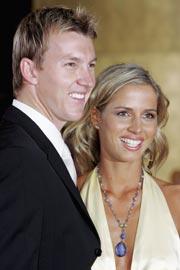 The 29-year-old Australian speedster and Kemp, also 29, were married at the country house of broadcaster Alan Jones at Fitzroy Falls, near Bowral, on Saturday.
The ceremony took place only metres away from Jones's personal cricket pitch, which is named in honour of Lee.
Close family and friends, including players from the Australian cricket team, attended the ceremony which was followed by a lavish reception.
The day was shrouded in secrecy because of a deal with a women's magazine, believed to be worth 80,000 dollars, the Sydney Morning Herald reported.
Lee's brothers Shane and Grant were his groomsmen.
Guests gathered under a white marquee behind Jones's sprawling house as security guards patrolled the grounds on quad bikes. NSW police officers were also spotted patrolling the boundaries.
Lee, who has kept the relationship with Kemp very private, popped the question while on tour in South Africa this year. He celebrated his 50th Test and taking his 200th wicket in Durban by presenting Kemp with a ring made with South African diamonds.
Kemp, who is from Queensland, quit her job at Double Bay late last year in order to "get married and have babies".
File Photograph: Getty Images