Former India captain Anil Kumble will be contesting for the Karnataka State Cricket Association (KSCA) top job against current president Srikanta Datta Narasimharaja Wadiyar, the Maharaja of Mysore, on November 21.
Former speedster Javagal Srinath is pitted against retired international umpire A V Jayaprakash while Venkatesh Prasad and Roger Binny will contest for the vice-president's post.
Incidentally, the last time when there was an election at the Karnataka State Cricket Association, Maharaja had then defeated legendary batsman Gundappa Viswanath to enter the cricket administration.
For secretary's post, it will be a three-way battle between Srinath, Jayaprakash and Siddalingaswamy.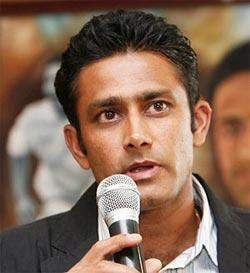 Jayaprakash, who belongs to the Maharaja faction is also among the five from their group who are contesting for the vice-president's post.
Interestingly, Jayaprakash has stood in a number of Test matches where the trio of Kumble, Srinath and Prasad have played.
Influential people from various walks of life including politics and business have filed their nominations. In all, 82 nominations have been filed for the 24 posts that are up for grabs.
This includes, one each for president, secretary and treasurer, three vice-presidents and 18 managing committee members (six each from individual members, Bangalore clubs and district clubs).
In all, KSCA has 229 clubs and 1200 individual members who can cast their vote.