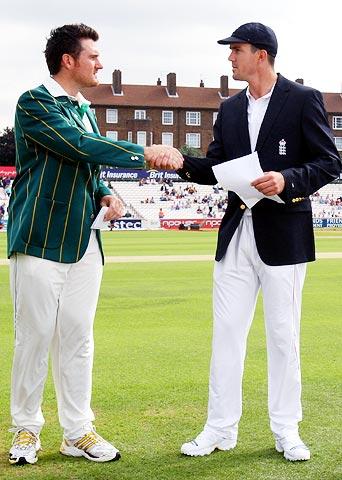 New England captain Kevin Pietersen (right) greets his South African counterpart Graeme Smith at the toss, ahead of the fourth Test at the Oval, in London, on Thursday.
Pietersen was named England captain following Michael Vaughan's resignation after the series loss to South Africa.
Interestingly, Pietersen's debut as England captain comes against the country of his birth.
The 28-year-old was born in Pietermaritzburg, Natal, but opted to play for the country where his mother was born because he disapproved of South Africa's racial quota system.
Left-arm wrist-spinner Gulam Bodi was preferred to Pietersen by the KwaZulu Natal Dolphins in Durban in 1997, triggering the youngster to ditch the country of his birth.
His English mother gave Pietersen eligibility to play for England, and after serving a qualifying period of four years playing at county level, he was called up almost immediately into the national side. He made his international debut in the One Day International match against Zimbabwe in 2004 and his Test debut in the 2005 Ashes series against Australia the following year.
Not surprisingly, Smith made no secret on his thoughts at Pietersen being named England skipper.
"We were at the South African Embassy on Tuesday for a function. People there were angry and upset at Kevin becoming England captain," Smith was quoted as saying by the Sun.
Factfile -- Kevin Pietersen
Born: June 27, 1980, Pietermaritzburg
Early career in South Africa: Played for KwaZulu-Natal
International career:
ODI debut vs Zimbabwe in November 2004
Test debut vs Australia in July 2005
Named England captain in August 2008