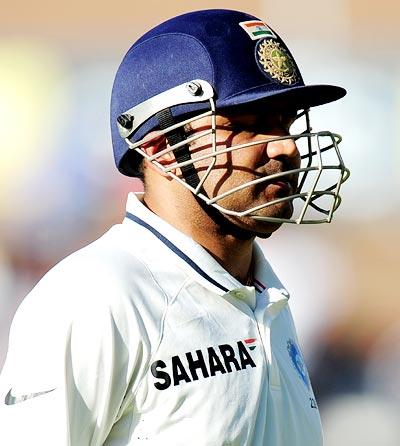 Virender Sehwag's experiment to bat in the middle-order failed, and Gautam Gambhir's woeful run of form continued, as India 'A' were restricted to 191 for 3 at stumps on the second day of the second unofficial 'Test' against West Indies 'A', at the Jawaharlal Nehru National College of Engineering cricket ground, in Shimoga, on Thursday.
After West Indies 'A' put up 406 in their first innings, opener Gambhir (11) and No 4 Sehwag (7) were done in by the guile of left-arm off-spinner Veeraswamy Permaul, who finished the day with figures of 2 for 60.
Unheralded Kerala opener Vasudevan Jagadeesh displayed good temperament and was unbeaten on 79 in the company of in-form Abhishek Nayar, who again showed his utility with a useful 56.
Jagadeesh, who narrowly missed out on a century in a 'Test' against New Zealand 'A' earlier this year, showed a lot of composure during his 172-ball knock that included eight boundaries.
Nayar was his attacking self as he smacked seven boundaries and a six in only 38 balls, coming into bat after skipper Cheteshwar Pujara (25, 90 balls) was dismissed after a dogged effort.
India, 215 runs behind West Indies 'A', need another 66 to avoid the follow-on.
The Delhi duo of Sehwag and Gambhir not only left the capacity crowd -- mostly engineering students -- disappointed, but also failed to impress national selectors Roger Binny and Saba Karim, who witnessed the proceedings.
Gambhir was uncomfortable against seamer Miguel Cummins and struggled for 43 balls with just a boundary to his name.
Left-arm spinner Permaul dismissed him in his third over. Gambhir tried an ugly hoick but only offered a simple catch to Fidel Edwards.
While Gambhir ran out of patience, Sehwag wasn't even ready to grind it out. He played a dozen deliveries before trying to give Permaul the charge and was stumped.
All the India 'A' wickets fell to left-arm spinners as Nikita Miller accounted for Pujara after he had shared a 60-run second wicket partnership with Jagadeesh.
Amidst the fall of big guns, Jagadeesh admirably put a price tag on his wicket, adding 77 runs for the unbroken fourth wicket stand with Nayar.
He brought up his 12th first-class half-century by playing Permaul on the on-side for two runs, off 98 balls that included seven hits to the fence.
Nayar's approach was in contrast. He meant business straightaway and unleashed an array of shots, dismantling the confidence of duo West Indies spinners.
The Mumbai all-rounder, who is in supreme form, did not lose the opportunity to impress the selectors and breezed to his fifty in just 28 balls, with seven boundaries and a six.
For the West Indies, Permaul and Miller finished with figures of two for 60 and one for 43, respectively.
Earlier, left-arm spinner Bharghav Bhatt came up with a career-best seven-wicket haul but it was unable to stop West Indies 'A'from amassing 406 in their first innings at lunch.
Overnight batsmen Leon Johnson and Nikita Miller poured cold water on the Indian bowlers' hopes of making early inroads in morning session.
They batted aggressively, scoring with some magnificent hits to the fence. It was Johnson who frustrated the home team the most as he put up a 97-run partnership for the seventh wicket with Miller (64 not out) on a pitch that was on the slower side.
Miguel Cummins was the last man out, cleaned up by Bhatt, who, in the process, captured his seventh wicket of the match.
Resuming at the overnight score of 283 for six, Johnson and Miller began their innings aggressively, hardly giving any chance to the Indian bowlers to take advantage of the morning conditions.
No Indian bowler impressed on a pitch that was a bit on the slower side, but Bhatt made the cut by taking all the four remaining wickets, ending with career-best bowling figures.
After he claimed Johnson's wicket, the Baroda lad quickly wound up the West Indies innings by removing Veerasammy Permaul (0), Fidel Edwards (1) and Cummins (0).
Scorecard
West Indies 'A' (1st innings):
K Brathwaite c Kaul b Rasool 82
K Powell c Kaif b Bhatt 33
K Edwards st Kaul b Bhatt 18
N Deonarine lbw b Khan 12
A Fudadin lbw b Bhatt 63
L Johnson c & b Bhatt 91
C Walton† c Kaul b Mohd Shami 30
N Miller not out 64
V Permaul lbw b Bhatt 0
F Edwards lbw b Bhatt 2
M Cummins b Bhatt 0
Extras: (lb 2, w 1, nb 8) 11
Total: 406
Fall of wickets: 1-55, 2-77, 3-98, 4-215, 5-215, 6-283, 7-380, 8-380, 9-390, 10-406
Bowling: Z Khan 20-5-66-1(8nb, 1w), Mohd Shami 22-2-93-1, A Nayar 16-4-52-0, P Rasool 33-9-80-1, B Bhatt 30.5-4-113-7.
India 'A' (1st innings):
V Jagadeesh not out 79
G Gambhir c F Edwards b Permaul 11
C Pujara c Powell b Miller 25
V Sehwag st Walton b Permaul 7
A Nayar not out 56
Extras: (lb 4, nb 9) 13
Total: (for three wkts) 191
Fall of wickets: 1-44, 2-104, 3-114
Bowling: F Edwards 4-0-30-0(9nb), M Cummins 11-4-30-0, V Permaul 23-7-60-2, N Deonarine 7-0-24-0, N Miller 13-1-43-1.
Image: Virender Sehwag
Photograph: Shaun Botterill/Getty Images