Banned leg-spinner Danish Kaneria's appeal against a life ban will resume on April 22 after it was adjourned by an England and Wales Cricket Board (ECB) disciplinary panel in December, the Pakistani player's brother said on Sunday.
The hearing on December 10 had to be adjourned after chief witness and Kaneria's former Essex county team mate, Mervyn Westfield, failed to show up.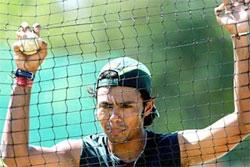 Kaneria was banned for life from playing in Britain after the ECB's disciplinary panel ruled last June that he had been involved in spot-fixing.
The 32-year-old, who played 61 Tests, was branded a "grave danger" to the game by the ECB who found him guilty of encouraging or attempting to encourage Westfield to underperform in a match in 2009.
"Danish is still in London and he will now decide whether to return to Pakistan or stay there till his appeal is heard," Vicky Kaneria told Reuters.
"Danish wants the appeal hearing to be heard so that he can prove he is innocent."
The ECB could not be reached for comment.
The leg-spinner, who has been suspended by the Pakistan Cricket Board (PCB) pending the outcome of the appeal hearing, said he wanted Westfield to appear before the five-man ECB panel.
Westfield was handed a four-month prison sentence last February after pleading guilty in court to spot fixing in a match between his Essex side and Durham in September 2009.