Rahul Dravid has taken a cue from Shane Warne's leadership qualities. He says Rajasthan Royals can beat any side on a given day, including a strong Royal Challengers Bangalore, with whom they lock horns in an Indian Premier League match in Bangalore on Sunday.
-RCB, RR look to bounce back after successive losses
"I noticed Warnie keeping things simple and giving players, especially youngsters, to express their views in last the IPL. I am doing a bit the same this year.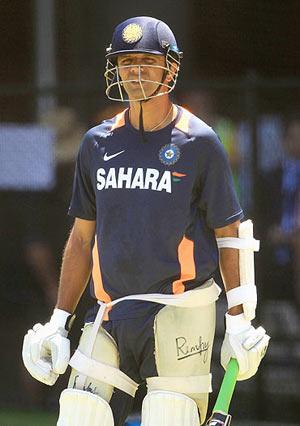 "We don't over-complicate things, neither have long meetings and practice sessions. We do things with intensity," the Rajasthan skipper said.
Dravid went on to say that he believes his team can beat any side on a given day, as it did in first two games.
"We have lot of potential to surprise lot of teams," he added.
Even the two games which RR lost were quite close, Dravid said, adding, "It is not that we have been completely out-classed."
Looking to perform better, he said to be competitive in this tournament, RR should start winning games away from home.
"We know we are a tough to team play at home ... We haven't had a great record away. We want to improve upon it ... It is quite a young squad so there are chances we lose on away pitches," he said.
Dravid said he would have loved to play S Sreesanth, who is injured and will probably not be available to play for at least the next two to three weeks.
"It is bit of a blow," he rued.
Though he is eager to play Shaun Tait, the problem is with accommodating the bowler with the cap on foreign players.
"With Shaun ... we want to get the balance right. Again, he is having a couple of issues. He is an exciting prospect to have at back of your hands," he said.
About the presence of international players like Owais Shah and Brad Hodge, Dravid said, "Owais and Hodge bat in the middle and we recognise Hodge as an extremely good finisher."
On Kevon Cooper's injury, Dravid said he would discuss the issue on Sunday.
Talking about the wicket, he said it haa a sprinkle of grass and few cracks.
"Having said that Muttiah Muralitharan and Daniel Vettori are quality bowlers. It doesn't count whether they are among wickets or not," he said.