English batsman Kevin Pietersen [ Images ], who has been transfered to Delhi Daredevils [ Images ] for the fifth edition of the IPL, said he was delighted to make a comeback to the cash-rich tournament and hoped that his new franchisee would regain its lost consistency in the upcoming season.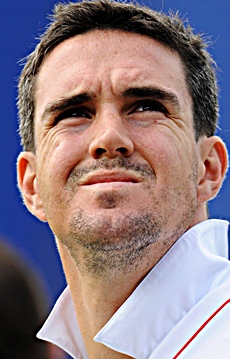 Pietersen, who last year joined Deccan Chargers [ Images ] after having a three-year stint with the Royal Challengers [ Images ] Bangalore, missed the previous edition of the league due to surgery.
"There is no doubt that the Indian Premier League [ Images ] is an exciting competition and I am delighted to back after having to miss out last season because of a surgery," Pietersen said.
"When I look at the squad list, I am sure that Delhi Daredevils will regain the consistency it has shown in the first three editions when it won 24 games," said the batsman, who became the first player of the franchisee to don the new team uniform at the ICC [ Images ] Global Cricket Academy.
Meanwhile, mentor of the team and head (cricket), GMR Sports Pvt Ltd, T A Sekar said he was excited about his team's prospects in the coming season.
"Kevin's transfer from Hyderabad, the successful bidding for Mahela Jayawardene [ Images ] and young all-rounders Andre Russell (West Indies [ Images ]) and Douglas Bracewell (New Zealand [ Images ]) are all steps in the right direction," he said.